A couple weekends ago I was told by my girlfriend that I was going to assist her in her search for a birthday present for her mother. Of course, I greeted this news with a smile but was dreading the thought of driving around congested Los Angeles looking for the perfect gift when I could be at home in front of my big screen T.V. watching the latest sporting events. We went from store to store in search of a gift but found none. Finally, we came upon an interesting store I had never heard of. So while my girlfriend was busy looking around I was busy checking out the square footage and watching the foot traffic. What I observed was that the store was very impressively busy. Luckily, we found a gift there, but I was also able to pepper several staff members with questions and found out that the last 6 months have been great for the store. I also discovered that the new initiatives by management have started to show results. So I left the store, Coldwater Creek (
CWTR
), armed with a new stock to research.
The story at CWTR is interesting. The company experienced a lot of success from 2003 to 2006 and saw revenue and earnings per share (
EPS
) grow at a compounded annual growth rate (
CAGR
) of 26% and 57%. As a result the company saw its stock price go from less than $5 a share to over $25. The financial results and stock price are summed up below.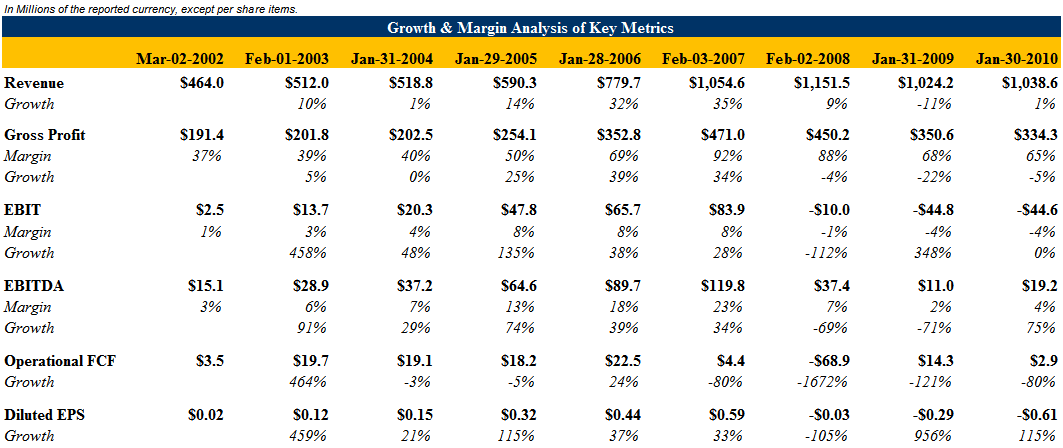 Prior management got over confident and started deviating away from its roots and let expenses get out of control. This resulted in declining revenue, margins, and the collapse of the stock price.
What I see here is opportunity for the entrepreneurial investor. There is new management in place and they are going back to the basics, refocusing on their established mail catalog business and their loyal customer base.
The early results are promising. The 3
rd
and 4
th
quarter of 2009 were much better than 2008 3
rd
and 4
th
quarter results. Management expects the turn around to continue well into 2010.
For more on CWTR including our full valuation please visit:
http://CRInvestor.net
Happy Investing,Alexis Evidente
Facebook: ClearResearch
Twitter: CR_Investor
www.CRInvestor.net
If you really want to see our investment process in action please go to our site
CRInvestor.net
. You will find unbelievable research and reports that captures the true essence of value investing and education. We show our members how to become better stock pickers by sharpening their valuation skills. Our reports provide institutional level research never seen before on the retail level. We found Joe's Jeans (
JOEZ
) at $0.22 which yielded an 845% return, and Hi-Shear Technology (
HSR
) that returned over 199% before being bought out. Not to mention that our results in 2009 outperformed the S&P by 69.6% and we have the brokerage statements to prove it!
About the author:
Alexis Evidente

Alexis Evidente: Alexis has been investing for over 16 years and over this time has refined his investment strategy to resemble the value investing style of Peter Lynch and Warren Buffett. Through his time spent providing expert valuations for clients of companies such as Citigroup, Bear Stearns and Marshall-Stevens, Alexis has continued to refine his investment philosophy. With the help of his fellow colleagues at Clear Research, Alexis created a new investing strategy focusing on value and growth, with a keen eye on multiples that would attract investment by private equity firms. Visit www.CRInvestor.net