If there were ever a familiar name left for dead by Wall Street, it would be
Bank of America Corporation
(
BAC
). It's been nearly seven years since Bank of America's stock price has seen a new high.
Sure, the stock has more than quadrupled from its early 2009 lows. But nearly all of those gains happened in the second and third quarters of 2009. Bank of America has drifted lower in the years that have followed, and its current stock price is down by nearly a quarter since early 2010.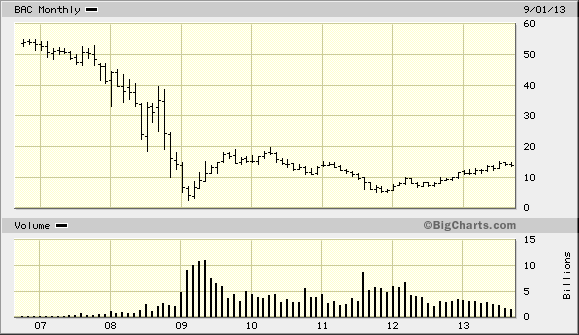 The reasons for lack of investor enthusiasm are well known. Banks were at the center of the 2008-2009 crisis, and Bank of America's mortgage portfolio was one of the largest and weakest of any major bank and the most at risk for claims from distressed borrowers. New curbs on proprietary trading and higher capital requirements would be a drag on future earnings growth. And higher interest rates would crimp demand for new loans.
But at what price are all of these negatives baked in?
Let's take a look at the numbers. Bank of America is trading for about 10 times earnings and 0.68 times book value. Using the more stringent metric of
price-to-tangible book
, which excludes intangible assets such as goodwill, we get a multiple of 1.1 times.
This means that Bank of America is worth nearly as much dead as alive and that investors are assigning virtually no value at all to the bank's continuing operations. That seems a little harsh given the progress the bank has made in cleaning up its loan book and given the nationwide improvement in home prices. The
S&P Case-Shiller 20-City Home Price Index
is up about 12% over the past 12 months alone.
And what about the bank's outlook? Bank of America isn't due to report its third-quarter results until the 16
th
of this month, but we can look to the last release for guidance.
Bank of America's net charge-offs and provisions for credit losses continue to trend down, from $3.6 billion and $1.8 billion, respectively, in the second quarter of 2012 to $2.1 billion and $1.2 billion in the second quarter of 2013. The number of mortgage loans 60+ days delinquent has been cut by more than half in the past year, from 1.1 million loans in the second quarter of 2012 to 492,000 last quarter. Management expects this to fall to 375,000 by year end.
Overall leverage continues to shrink. And the
bank's Basel III tier 1 capital ratio
—at 9.6% as of last quarter—ranks Bank of America ahead of
JPMorgan
(
JPM
),
U.S. Bancorp
(
USB
), and even
Warren Buffett
's favorite,
Wells Fargo
(
WFC
).
All of this points to a bank that, while still a mess, is cleaning up its act in a hurry.
Meanwhile, Bank of America is showing modest growth in its consumer credit card and auto loan businesses, and its client brokerage assets are up 17% year over year.
With all of this said, what is Bank of America worth?
In the eight years preceding the crisis, shares fetched 2-5 times tangible book value. Given the bank's diminished earnings potential in these more sober of days, I would use the lower end of that range as the target.
A price-to-tangible-book ratio of 1.5 to 2.0 would put Bank of America's stock price at $18.90 to $25.20, giving an upside of 36%-81% from current prices.
Mohnish Pabrai
and
Bruce Berkowitz
would appear to find value in the stock. Pabrai—a respected value investor known for making concentrated bets—has 22.9% of his funds invested in Bank of America. Berkowitz, manager of the Fairholm Fund and another respected value investor with a reputation for making large, concentrated bets, has 16.9% of his funds invested in Bank of America.
It may not be pretty. But Bank of America is dirt cheap, and it is the largest single holding of two well-respected value investors with phenomenal long-term track records.