Are women better investors than men? That's what David Weidner argued in his widely-tweeted MarketWatch column Tuesday, Women Are Better Investors, and Here's Why.

From Sex Scandals to Investing

After reminding readers of recent sex scandals involving male politicians, Weidner actually made a broader argument, that women are better at pretty much everything:


Why is it that men so often self-destruct? In the political world, Weiner joins Eliot Spitzer, Bill Clinton, John Ensign, Arnold Schwarzenegger and John Edwards as hypocritic slimeballs who let their pants set their personal policy.

[...]

Women, on the other hand, do almost everything better. We've known this intuitively for a long time. If you didn't, just ask your wife or your mother. But now there's a raft of evidence that suggests women are better at everything — including investing.
Women take fewer risks
Weidner went on to cite studies by Barclays Capital Plc (
NYSE:BCS
) and Ledbury Research, and Merrilly Lynch, that found that women were more likely to make money in the market because they take fewer risks. He also cites Dan Abrams' new book, "Man Down: Proof Beyond a Reasonable Doubt That Women Are Better Cops, Drivers, Gamblers, Spies, World Leaders, Beer Tasters, Hedge Fund Managers and Just About Everything Else." This sort of cheer leading about the superiority of women, particularly in the context of financial decision making, isn't new.
Not a new argument
In his New York Times column two years ago (
Mistresses of the Universe
), Nicholas Kristoff made a similar argument:


At the recent World Economic Forum in Davos, Switzerland, some of the most interesting discussions revolved around whether we would be in the same mess today if Lehman Brothers had been Lehman Sisters. The consensus (and this is among the dead white men who parade annually at Davos) is that the optimal bank would have been Lehman Brothers and Sisters. Wall Street is one of the most male-dominated bastions in the business world; senior staff meetings resemble a urologist's waiting room. Aside from issues of fairness, there's evidence that the result is second-rate decision-making.
Blaming men
Kristoff seemed to be unaware that the former Chief Financial Officer of Lehman Brothers (
LEHMQ.PK
) wasn't a "dead white man" at all, but the live woman pictured below, Erin Callan. This photo, which appeared in a Wall Street Journal article from May, 2008, (
Lehman's Straight Shooter: Finance Chief Callan Brings Cool Jolt of Confidence To Credit-Rattled Street
), was captioned as follows: "Erin Callan is known for being frank, fashionable."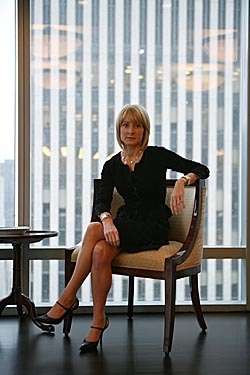 Kristoff continued,
There seems to be a strong consensus that diverse groups perform better at problem solving" than homogeneous groups, Lu Hong and Scott E. Page wrote in The Journal of Economic Theory, summarizing the research in the field.
Gender diversity and risk management
Perhaps Mr. Kristoff would have been a little more skeptical were he aware that gender diversity at high levels of financial firms didn't seem to help the problem-solving processes at those firms. In addition to Callan, other women held high roles at major financial firms that stumbled during the financial crisis, including Sallie L. Krawcheck, former CFO at Citigroup Inc. (
NYSE:C
); Zoe Cruz, former head of trading and risk operations at Morgan Stanley (
NYSE:MS
); and Amy Woods Brinkley, chief risk executive at the time at Bank of America Corporation (
NYSE:BAC
).
Are women really better investors?
How do we reconcile the studies cited by David Weidner, which show that among individual investors, women tend to have higher returns, with the paucity of women on "greatest investors" lists (e.g.,
this one
from Investopedia, which lists 19 men and 0 women)? Perhaps investing is a field where women are better on average, but men are better represented at the far ends of the bell curve. One thing seems clear though: Women aren't better at everything than men. Men are clearly better at pandering.
About the author: