Time for Bill Ackman to channel his "inner Buffett" when it comes to Howard Hughes?

Howard Hughes Corporation (NYSE:HHC) (from the website):


We own, manage and develop commercial, residential and mixed-use real estate throughout the country. Our company is comprised of 34 assets including master planned communities, operating properties, development opportunities and other unique assets spanning 18 states from Hawaii to New York. We have approximately 200 employees, almost half of whom are dedicated to the growth and service of our master planned communities.

MASTER PLANNED COMMUNITIES

The company's master planned community business consists of the ownership, development and sale of property at four communities with over 14,000 acres of land remaining to be sold. These include Summerlin in Las Vegas, Bridgeland and The Woodlands in Houston, and Columbia, Fairwood and Emerson in Maryland.

OPERATING PROPERTIES

The company's eight operating properties are primarily retail and include South Street Seaport (Manhattan, NY), various properties in Columbia Town Center (Columbia, MD), Landmark Mall (Alexandria, VA), Riverwalk Marketplace (New Orleans, LA), Rio West Mall (Gallup, NM), Cottonwood Square (Holladay, UT), Park West (Peoria, AZ) and Ward Centers (Honolulu, HI). Currently, several of the operating properties present significant opportunities for redevelopment.

DEVELOPMENT OPPORTUNITIES

The company also has an exciting and diverse pipeline of strategic opportunities for near, mid- and long-term development. These range from air rights and surface parking lots to aging properties poised for redevelopment.


We are going to focus on one group of assets here, Ward Center who recently got
$250 million
from Wells Fargo (
NYSE:WFC
) for its redevelopment.
Ward Centers is comprised of approximately 60 acres of fee simple land situated along Ala Moana Beach Park. It is within one mile of Waikiki and downtown Honolulu. Ward Centers currently is a 550,000 square foot shopping district containing six specialty centers and over 135 unique shops, a variety of restaurants and an entertainment center, which includes a 16-screen movie theater.

In January 2009, the Hawaii Community Development Authority approved a 15-year master plan, which entitles a mixed-use development encompassing up to 9.3 million square feet, including up to 7.6 million square feet of residential (4,300 units), five million square feet of retail and four million square feet of office, commercial and other uses.


Here is a site map: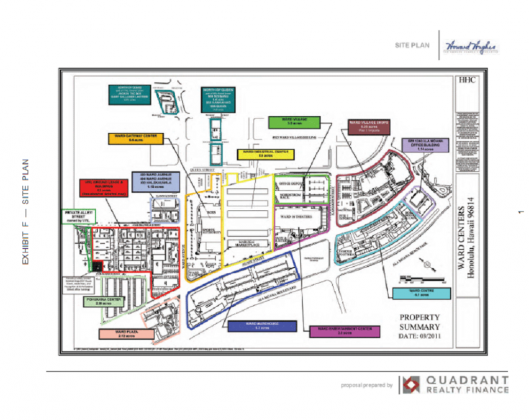 Great, you say, but we all know RE value is "location, location, location." Agreed. So here is an aerial picture of the site: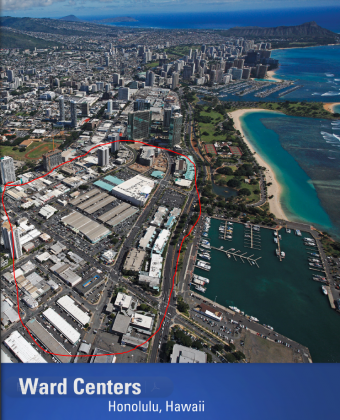 The area in red is
$HHC
's property. Anyone want to guess what 4,300 luxury condos with that view might be worth?
If we use
Zillow based on sales
, we get a price per square foot for 2 bedroom condos in Honolulu and Waikiki in a range of $450 to $550. We could argue that since HHC will be building near Waikiki Beach that the higher price should prevail but we'll just split the difference and call it $500. We'll also assume only 80% of the approved space is livable (excluding common areas, walls, etc.) and now we have approximately 6 million square feet. That space, assuming it sells for an average price of $500 square feet, means its gross value is $3 billion. If we give HHC a 20% profit margin that means they bring in $600 million. I would say HHC's margin would be much higher as considerable planning/permitting expenses were already realized pre-spin from GGP. I would also argue condos with immediate access to an ocean front park on the island and with walking access to a first-class shopping/dining area would bring premium prices, but we'll just go with "average" for purposes of discussion. This also excludes 100% of the value for the Ward Centers Shopping area and improvements in NOI/value that will come from its upcoming facelift and the 20 acres of ranch land owned on Maui. It would be the time now to note that HHC's total market cap is $1.4 billion
So, when I say that the Hawaii properties owned by HHC are worth more than the entire company now, this would be the reason why.
It also means that when you buy shares of HHC, you not only get an undervalued claim on the Hawaii assets but the S. Street Seaport (NYC), Las Vegas, Houston, Baltimore/Washington and the rest of the operating assets for free. Not a bad deal
It is also why it would be
very
disappointing not to see Ackman, management or the company itself not buying shares at these levels. Buffett recently said, "I like buying dollar bills for less than a dollar" when talking about the recently announced Berkshire (
NYSE:BRK.A
)(
NYSE:BRK.B
) buyback. The argument could easily be made (I hope I made it above) that were $HHC to announce a buyback it would be "buying back dollars bills for less than the value of just its Hawaii assets". In fact, I would go as far to say they would be buying them at conservatively $.20-$.40 on the dollar for the whole company, not the $.90 Buffett decided to buy Berkshire shares back at.
Further, despite that hatred I have for excess debt and the love of a good clean balance sheet, one has to start to go through another process. If HHC can buy its stock at a discount of 50%-70% from its value today, is it worth taking on some debt at LIBOR + 3% to wipe off 1/4 or more of the shares? Would the return generated for shareholders be worth it? At discounts to value this large, I am beginning to lean towards "it just might be."
Ward Centers Fact Sheet (click to open.pdf)
.
Also check out:
About the author:
Todd Sullivan
Charlie Tian, Ph.D. - Founder of GuruFocus. You can now order his book Invest Like a Guru on Amazon.