Dividend paying equities--including MLPs--stopped following the ups and downs of interest rates
several years ago. Check out this graph comparing the Alerian MLP Index to the 10-Year Yield Index.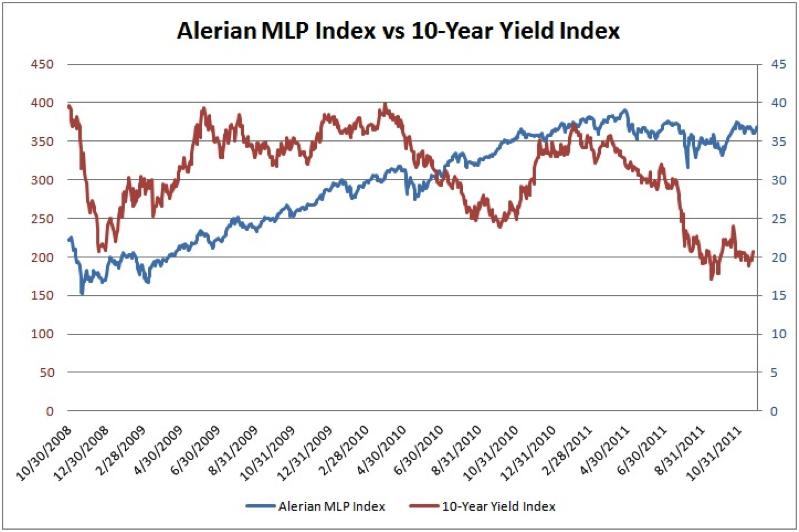 Source:
Bloomberg
Instead, they track dividend growth over the long term and investors' perception of risk in the near term. The greater the perceived risk to a partnership's payout, the further the MLP's units will sink when macro risks spook investors. By the same token, riskier holdings also have more room to rally when investor sentiment improves.
One of the highest-yielding picks in the portfolio of my advisory service, MLP Profits, is Navios Maritime Partners LP (
NYSE:NMM
).
Units of Navios Maritime Partners currently yield over 12 percent after the stock tumbled from a record high of more than $21 in late April 2011. This recent swoon belies the company's strong performance this year and two distribution increases over the past 12 months.
Investors remain bearish on Navios Maritime Partners for two reasons. For one, conditions in the tanker industry continue to deteriorate, as demonstrated by General Maritime Corp's (
GMR
) recent bankruptcy. Although General Maritime owned
oil tankers
and Navios Maritime Partners focuses on dry-bulk carries, day-rates have plunged in both industries because of overcapacity.
Day-rates in the spot market, where vessels are immediately available for short-term leases, are well below rates on expiring contracts. General Maritime Corp, for example, reported a 52.8 percent drop in third-quarter spot rates from a year ago and a 34.1 percent decline in its "net voyage revenue." Meanwhile, a decline in vessel values required the ailing company to make prepayments on some its loan covenants, leading to 46.1 percent in interest expenses.
Navios Maritime Partners LP's third-quarter results showed little effect from the brutal operating environment. Revenue rose 26 percent from year-ago levels, cash flow surged 24.1 percent, and "operating surplus" — the account from which distributions are paid — increased 24.1 percent. The
MLP
covered its third-quarter distribution 1.6 times.
The difference maker continues to be management's conservative financial and operating policies. Navios Maritime Partners' fleet has an average of more than four years remaining on its outstanding charters. The company's vessels are under contract on 92 percent of available days in 2012. These agreements are insured against default by an AA+ rated EU governmental agency, which has already made good on one defaulted contract.
Meanwhile, investors are skeptical of any company that relies on the EU government, as well as any firm headquartered in Greece. Investors also fret that the weak global economy will further worsen supply and demand conditions in the shipping market.
Nevertheless, as Navios Maritime Partners' CEO Angeliki Frangou noted during the company's
October 24 conference call
, dry-bulk shipping rates have shown signs of recovery and major ports for shipping coal, iron ore and other materials are congested. Frangou also indicated that "scrapping is setting new records on a deadweight basis."
My bet on Navios Maritime Partners assumes that the company will continue to perform in a difficult operating environment. I'll continue to monitor the MLP's results to ensure that the business is generating enough cash flow to support the distribution, but at present moment, with little exposure to depressed rates in the stock market over the next few years, Navios Maritime Partners looks to be an attractive
MLP investment
.
About the author:
investingdaily

Investing Daily provides stock market advice and investment newsletters to help independent investors achieve a secure and rewarding financial future. The site's coverage focuses on finding the most profitable emerging trends in the investment universe to bring investors pragmatic and in-depth coverage of the names that are taking advantage of these opportunities.