Brookfield Renewable Energy Partners LP (BRPFF.PK) was forged in November from the union of the former Brookfield Renewable Power Income Fund and renewable power assets of parent Brookfield Asset Management (NYSE:BAM).

The result is the world's largest bet on hydropower, with a growing $13 billion portfolio of 4.8 gigawatts in Brazil, Canada and the U.S.

The deal — which exchanged one unit of the new limited partnership for each of the income fund units on a tax-free basis — includes an immediate 5% boost to Brookfield Renewable's quarterly distribution to 33.75 cents Canadian. Meanwhile, two gigawatts of new projects will fuel annual distribution growth of 3% to 5% through 2015.

Brookfield Renewable's current sales are fully contracted, mostly to utilities and government entities, at inflation-protected rates for an average of 24 years. That includes the 10% of output from wind farms.

Pre-contracting before beginning construction on new plants further reduces risk. And this merger sharply reduces quarterly cash flow fluctuations. Dams protect water flows to newly added U.S. plants (48% of capacity), and plants in Brazil (14%) receive cash based on capacity.

Most Canadian limited partnerships restrict U.S. investment. Brookfield Renewable, however, intends to list on the New York Stock Exchange to "deepen its investor base and improve ability to fund growth."

This listing alone will boost Brookfield Renewable's unit price, which slipped from all-time highs reached in early November due to worries about a European financial crisis from which the company is largely immune.

Click to enlarge: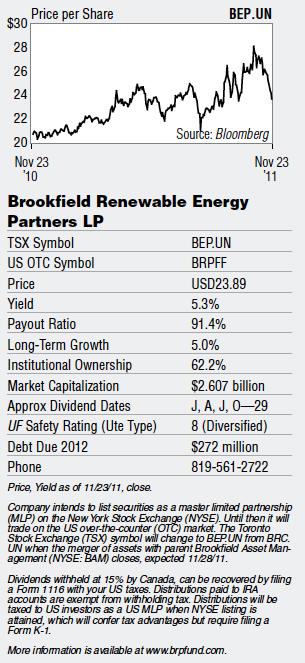 About the author:
investingdaily

Investing Daily provides stock market advice and investment newsletters to help independent investors achieve a secure and rewarding financial future. The site's coverage focuses on finding the most profitable emerging trends in the investment universe to bring investors pragmatic and in-depth coverage of the names that are taking advantage of these opportunities.