Japanese stocks have long tempted value-oriented investors who hope to capitalize on the sclerotic Japanese market's eventual turnaround. Unfortunately, those gains have proved largely elusive due to the global economy as well as reasons endemic to Japan.

Last year, Japan suffered a devastating earthquake and tsunami in March that led to power shortages that further impaired economic activity. At the same time, the yen's appreciation and the EU's sovereign-debt crisis weakened demand for Japanese exports, while flooding in Thailand disrupted the supply chain for global technology companies, including those in Japan.

Beyond that, Japan's economy remains mired in deflation. With all these headwinds, I believe Japan's gross domestic product (GDP) will grow just 2 percent during 2012.

Even after the market's recent rally, the TOPIX--a capitalization-weighted index of the companies listed on the First Section of the Tokyo Stock Exchange--yields more than the 10-year government bond and trades at less than one times book value, as compared to a long-term average of 1.7 times book value.

I expect the Japanese currency will remain relatively strong for some time, which will be beneficial to foreign-based investors. Despite its relative strength, the yen remains undervalued against the dollar in real terms.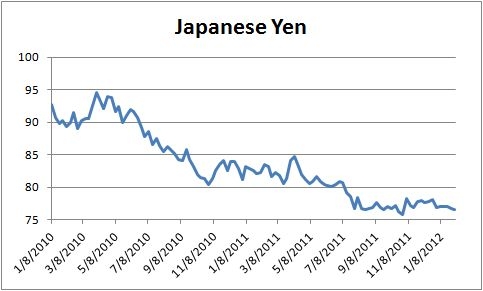 Source: Bloomberg

The strong yen has enabled numerous Japanese companies to make overseas acquisitions. Last year, Japanese companies spent USD80 billion to acquire around 600 foreign companies, which was roughly USD5 billion more than in 2008.

However, Japan's domestic economy is still a significant drag on its stock market's performance. But the government's massive spending to rebuild the country's aging infrastructure should provide some boost to the economy. The government has already approved USD247 billion in reconstruction spending and is in the process of approving an additional USD42.5 billion.

Investors with a long-term horizon should take advantage of Japanese stocks at their current levels. The market has largely discounted the country's myriad challenges, and as long as a global economic meltdown does not transpire, Japan will continue its gradual ascent.

Investor expectations are relatively low with regard to earnings growth for Japanese companies, and a decent performance by the global economy should result in double-digit earnings growth in 2012. One way to take advantage of this investment thesis by buying shares of iShares MSCI Japan Index (EWJ). Also, be sure to check out my free report on the top Asian stock market picks for more tips on investing in Asia.


About the author:
Yiannis Mostrous

Investing Daily provides stock market advice and investment newsletters to help independent investors achieve a secure and rewarding financial future. The site's coverage focuses on finding the most profitable emerging trends in the investment universe to bring investors pragmatic and in-depth coverage of the names that are taking advantage of these opportunities.