Afflicted by a wave of patent expirations and several high-profile class-action lawsuits, the pharmaceutical industry has suffered its fair share of ailments in recent years. Accordingly, the S&P 500 Pharmaceuticals Index has returned a paltry 16.5 percent over the past half-decade.

In contrast, the New York Stock Exchange ARCA Biotechnology Index has gained 78.2 percent over the same period. (See "Biotech Blasts Off.") Biotechnology encompasses a number of product categories, from diagnostics and testing to gene sequencing and small-molecule biologic drugs.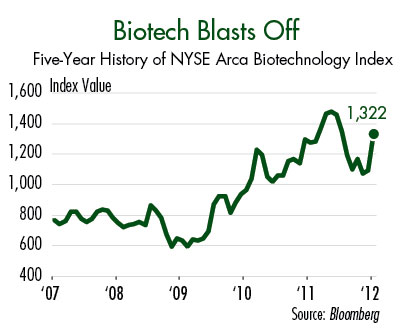 One of the most exciting—and potentially lucrative—trends in the biotech space is the emergence of personalized medicine. In a 2010 report, PricewaterhouseCoopers estimated that the U.S. market for personalized medicine would almost double to $450 billion by 2012.

The concept behind personalized medicine is simple: Based on genetic information medical practitioners can tailor health care solutions for individual patients.

However, the technology behind the trend is much more complex. Advances in gene sequencing have enabled researchers to identify the root causes of chronic diseases. These discoveries, in turn, allow drugmakers to develop targeted treatments for a number of illnesses. In many instances, these therapies entail less damaging side effects than regnant treatments.

Netherlands-based Qiagen (NASDAQ:QGEN) develops and markets high- and low-end technologies used in DNA analysis and diagnostic testing. The firm generates about 15 percent of its revenue from instrument sales, with the remainder coming from reagents and consumables used in testing.

Over the past three years, the company has grown its revenue at an average annual rate of 19 percent. Qiagen's fourth-quarter sales surged 17 percent from a year ago, bolstered in part by the launch of QIAsymphony, a system that automates sample processing and analysis to reduce work time and errors. Qiagen had installed more than 550 QIAsymphonys by the end of 2011 and aims to expand this base to 750 units in 2012.

The firm has also benefited from limited vaccination for human papillomavirus (HPV) in the US. At least 50 percent of sexually active men and women in the U.S. have HPV, a disease that causes 70 percent of all cervical cancer in women. Although a vaccine against HPV is available, the treatment only inoculates against two of the 13 known high-risk strains of the virus. U.S. adoption of this vaccine has also been slowed by popular resistance.

Qiagen has developed low-cost HPV tests that detect and differentiate between the 13 high-risk strains of the virus and the five low-risk strains. With this knowledge, physicians can recommend the best course of treatment for a patient.

In addition to offering innovative products, Qiagen is working to expand its geographic footprint and improve efficiencies. In 2011 emerging markets contributed 12 percent of the company's net sales. The firm recently entered India and Taiwan and plans to expand to other high-growth markets.

Qiagen's ongoing efforts to reduce operating costs and sharpen its research and development program boosted operating margins to 17.3 percent in 2011, compared to 12.8 percent three years ago. The firm has also reduced its debt load and amassed a sizable cash balance, moves that should enable the company to self-finance its expansion plans andshare price growth.

Given the inherent risk in investing in smaller biotech names, some investors may prefer to add diversified exposure to the industry through an exchange-traded fund (ETF).

SPDR S&P Biotech (XBI) tracks a basket of 45 biotech names. Rather than focusing solely on the large- and mega-capitalization names, this top ETF devotes almost half its investable assets to small-cap stocks. This focus gives the fund upside exposure to emerging technologies and innovations. That being said, investors should expect the ETF to exhibit more volatility than the S&P 500.

SPDR S&P Biotech carries an expense ratio of 0.35 percent, making it one of the cheapest biotech-focused ETFs on the market. With no capital gains distributions in its history, the fund is also extremely tax-efficient.
About the author:
Benjamin Shepherd

Investing Daily provides stock market advice and investment newsletters to help independent investors achieve a secure and rewarding financial future. The site's coverage focuses on finding the most profitable emerging trends in the investment universe to bring investors pragmatic and in-depth coverage of the names that are taking advantage of these opportunities.