The poor performance of a handful of high-profile technology initial public offerings (IPO) in the late 1990s sullied the reputation of newly listed companies for many investors.

However, many of the past decade's best-performing stocks have been IPOs. Shares of payment processor Visa (NYSE:V), for example, are up 81 percent even though the company went public in the worst bear market in a generation.

The Bloomberg U.S. IPO Index — an index of companies in their first year of trading as public stocks — has rallied more than 180 percent over the past decade, besting the S&P by more than 3-to-1 (see "IPOs: The Market Beaters").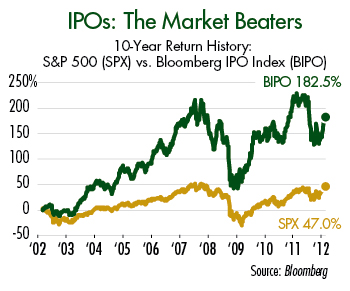 Social media giant Facebook is the most buzz-worthy IPO this year, but don't denounce the brainchild of 27-year-old Mark Zuckerberg as overvalued. Pundits took similar potshots at Google (GOOG) when the search giant went public eight years ago. Investors who passed on this "overvalued" stock missed out an opportunity for a sixfold gain.

Now that Facebook has followed Google's example and filed for its much-anticipated IPO, the enthusiasm for social media investments has spread like wildfire.

But some of the best new listings are under-the-radar names that go public to little fanfare. The herds often take months to recognize the growth and income potential of IPOs, giving savvy investors an opportunity to beat the crowd to the profits.

IPOs of master limited partnerships (MLP), U.S. royalty trusts and other income-paying securities offer early-bird investors an opportunity to lock in high yields on quality names before the market catches on to the fact that these companies are the best growth stock picks.

Most brokerage and financial websites calculate a stock's yield based on its history of paying dividends or distributions. These sites will indicate that the security yields zero percent until a company has disbursed a few quarterly payouts.

But companies planning to go public typically report their expected dividends or distributions on their S-1 registration statements filed with the Securities and Exchange Commission. Even better, most MLPs and trusts use conservative assumptions when estimating their post-IPO dividend; companies want to grow their payouts quickly to attract investor attention and generate demand for the stock. Early investors can lock in impressive yields before the masses rush in.

Aggressive investors should consider LRR Energy LP (NYSE:LRE), an MLP that in the three months ended Sept. 30, 2011, produced 7,087 barrels of oil equivalent per day from three regions: the Permian Basin of West Texas and southeast New Mexico, the Mid-Continent region (East Texas and Oklahoma), and the Texas Gulf Coast.

Oil and natural gas liquids (NGL) account for about 60 percent of LRR Energy's reserves in the Permian Basin, and roughly 78 percent of the acreage is proved and developed. Management has identified 213 low-risk drilling locations and 192 potential work-over or recompletion projects in the Permian Basin, the firm's core area of operation.

I'm less sanguine about the MLP's Mid-Continent and Gulf Coast acreage. None of the LRR Energy's Mid-Continent reserves contain oil or NGLs, while liquids account for less than one-third of its Gulf Coast reserves. With gas prices likely to languish for at least two to three more years, this resource base is a burden in the current environment.

However, LRR Energy's hedge book covers about 85 percent of the firm's expected oil and gas production from 2012 to 2015, limiting near-term exposure to natural gas prices.

As an added layer of protection, subordinated units make up about 30 percent of LRR Energy's float; these units only receive a distribution if the MLP has disbursed the minimum quarterly payout of $0.4750 per unit to holders of the common stock. If a quarterly distribution falls short of this threshold, the GP forgoes part of its payout to make unit-holders whole.

LRR Energy's sponsor, private-equity firm Lime Rock Resources, still owns 15.3 million barrels of oil equivalent in reserves. Joint ventures and drop-down transactions involving these assets could expand LRR Energy's asset base dramatically and transform its growth prospects.

LRR Energy's annualized distribution is about $1.90 per unit, equivalent to a yield of nearly 10 percent at current prices.
About the author:
Elliott Gue

Investing Daily provides stock market advice and investment newsletters to help independent investors achieve a secure and rewarding financial future. The site's coverage focuses on finding the most profitable emerging trends in the investment universe to bring investors pragmatic and in-depth coverage of the names that are taking advantage of these opportunities.