Politics continue to play a huge role in the metals market around the world, influencing production and investment plans. Consequently, the risk of investing in commodity stocks has increased, which in turn has improved valuations as share prices decline.

This dynamic has generated attractive entry points for top material stocks, but risks remain. Investors should allocate funds gradually.

Freeport McMoRan (NYSE:FCX), my favorite copper play, is a case in point. FCX is the world's largest publicly traded copper and molybdenum producer. For every USD0.10 change in the price of copper, the miner's EBITDA (earnings before interest, taxes, depreciation and amortization) rises or falls by approximately USD400 million.

The firm's major assets include the Grasberg mine in Indonesia; the Cerro Verde, El Abra and Candelaria copper mines in South America; the Tenke Fungurume copper/cobalt mine in the Democratic Republic of Congo; and the Henderson molybdenum mine in Colorado.

The company has traditionally traded at a discount to some of its less robust peers, because of its big exposure to Indonesia. The Grasberg mine boasts the world's largest recoverable reserves of copper and the mine is one of the world's biggest gold producers.

Grasberg suspended operations at the end of February, because of labor strife. Two weeks ago, operations restarted but full production won't be reached until sometime in the second quarter. Consequently, the company has revised down its production numbers for the current quarter to 795 million pounds of copper and 300,000 ounces of gold, from the previous figure of 875 million pounds of copper and 425 thousand ounces of gold.

The salient political issue for the company relates to its operations in Indonesia. A new law, signed by President Susilo Bambang Yudhoyono on February 21, changes the rules on foreign ownership of mines.

Under the new rules, Southeast Asia's largest economy will require foreign companies to sell down stakes in mines and increase domestic ownership to at least 51 percent by the 10th year of production.

Freeport announced that it was confident the Indonesian government would honor all existing contracts and that it has voluntarily agreed to divest some of its stake.

The consensus here is that FCX will be one of the least affected companies and, more importantly, the effect won't be as severe as some investors fear.

FCX has shown commitment to Indonesia throughout the years. For instance, it has retained 25 percent of Gresik smelting, the only copper smelter currently in Indonesia and one which the company built. FCX has indicated to the government that it would supply additional concentrates, subject to market terms, if additional smelter capacity were developed in the country.

That said, the likely scenario is for FCX to divest the 9.36 percent stake in PT Freeport Indonesia held through its wholly owned subsidiary PT Indocopper Investama. The transaction would be close to fair market value, minimizing the impact to the company.

Copper remains one of my favorite metals this year. The supply/demand imbalance in the copper market is expected to persist for at least another year, as current production remains insufficient to cover demand despite slowing global economic growth. With copper already in tight supply, further disruptions to copper production could push copper prices higher.

The chart below shows the copper market adjusting prices upward, following a protracted downturn.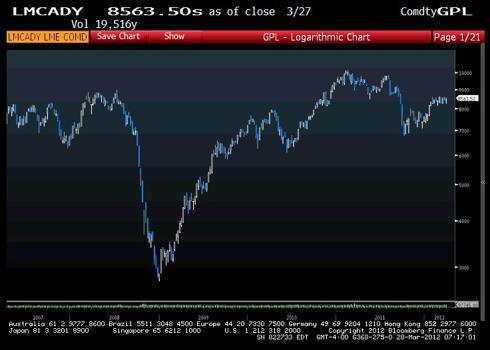 Source: Bloomberg

Meanwhile, it appears that the Chinese economy will avoid a "hard landing." Although Chinese policymakers have dampened the country's rapid growth and cooled its overheated real estate market, the Middle Kingdom remains on track to deliver gross domestic product (GDP) growth at close to 8 percent this year.

China's preliminary import numbers for February indicate that iron ore imports were up 34 percent year over year to 64.98 million tonnes; copper up 125 percent year over year to 485 thousand tonnes; and steel imports grew by 19 percent yoy to 1.22 million tonnes. This suggests that commodity stocks such as Freeport McMoRan could still have substantial upside.