But how, you will ask, does one decide what [stocks are] "attractive?" Most analysts feel they must choose between two approaches customarily thought to be in opposition: "Value" and "growth"... We view that as fuzzy thinking... Growth is always a component of value [and] the very term "value investing" is redundant. — Warren Buffett, Berkshire Hathaway (BRK.A)(BRK.B) annual report, 1993
At Valuentum, we take Buffett's thoughts one step further. We think the best opportunities arise from a complete understanding of all investing disciplines in order to identify the most attractive stocks at any given time. We therefore analyze each stock across a wide spectrum of philosophies, from deep value through momentum investing.
This involves performing significant valuation analysis, both on a DCF and relative value basis, and assessing the firm's fundamentals (cash flow, risk, etc.), technicals and momentum indicators. The best stocks, we believe, will be attractive from a number of investment perspectives — from value through momentum (hence our name, Valuentum). On the other hand, the worst stocks will be shunned by most investment disciplines and display expensive valuations and poor technicals and momentum indicators. In the spirit of transparency, here's how the
Valuentum Buying Index
, our stock-selection methodology, sorts winners and losers: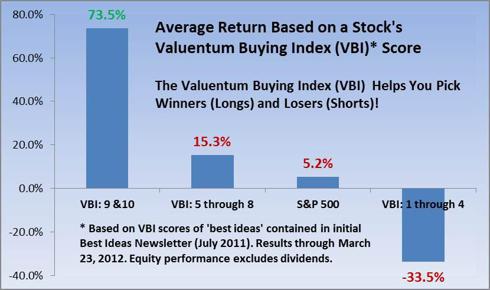 As part of our process, we use a discounted cash-flow model to arrive at a fair value estimate for every company within our equity coverage universe. In Ancestry.com's (
ACOM
) case, we think the shares continue to look undervalued at today's prices. Our fair value estimate for Ancestry.com is over $40 per share, almost double its current price.
Ancestry.com's DCF Valuation Summary
We assume annual average top-line growth will average in the high teens over the next five years, a conservative estimate given the release of the biggest catalyst genealogical research has seen in 10 years, the 1940 U.S. Federal Census. We also assume that Ancestry will grow earnings at a nice double-digit pace during our discrete five-year horizon, another reasonable assumption given the incremental margins on each new subscriber added. We expect the firm's excess returns on invested capital will fade to our estimate of its cost of capital (about 10.8%) by Year 20 in our model, an artifact of our view that competition will steadily eat into outsize returns over time. In the spirit of transparency, we make available our fully-populated DCF valuation models to all of our financial adviser and institutional customers
here.
Source:
Valuentum Securities Inc.
Our estimated fair value ranges between $27 per share and $55 per share for Ancestry.com and is based on the margin of safety we ascribe to the company. This considers the risks inherent to Ancestry.com's business as well as the future potential variability in the company's free cash flow stream.
We are considering adding to the position in the portfolio of our
Best Ideas Newsletter
on any material weakness. And with nearly 36% of the float short on this name, we think a significant and rapid convergence to fair value is more likely than a slow and steady upward march.
About the author:
Valuentum Securities

Valuentum Securities Inc. is an independent investment research provider, offering premium equity reports and dividend reports, as well as commentary across all sectors/companies, a Best Ideas Newsletter (spanning market caps, asset classes), a Dividend Growth Newsletter, business/investing book reviews pre-public release, modeling tools/products, and more. Independence and integrity remain our core, and we strive to be a champion of the investor. Valuentum is based in the Chicagoland area.