Over the past two months, I've warned that the S&P 500 could pull back by 5% to 10% this spring. Recent market action suggests that this correction may have started. If my forecast pans out, the second quarter could give us an opportunity to buy high-quality names at favorable prices.

Here's my four-part strategy to investing in energy stocks for the next few quarters:


Buy yield at the right price: Focus on master limited partnerships, royalty trusts and integrated oil companies that trade at reasonable valuations.
Book profits on overextended names: If you're still sitting on sizable gains in stocks that have run-up too high, take advantage of these lofty valuations to raise some capital.
Buy undervalued growth stories: Oil-field services stocks will benefit over the long term from the end of easy oil, or the increasing expense of incremental production. Current stock prices don't reflect this upside.
Hedge your bets: Last summer, my short bet on First Solar (NASDAQ:FSLR) made money while the broader market tumbled. This time around a bet against North American natural gas producers could offset some damage if stocks pull back in the third quarter.
This updated strategy is primarily a function of my outlook for the broader market and energy commodities.
Whereas market participants were overly bearish about the global economy's growth prospects last summer, investor sentiment has grown far
too optimistic about the strengthening U.S. economy
.
Last summer's swoon stemmed in part from temporary headwinds such as supply-chain disruptions caused by Japan's devastating Sendai earthquake and a spike in oil prices in early 2011. This year, many investors are overlooking the impact of an unseasonably warm winter on economic activity. That's not to suggest that we expect the U.S. to lapse into recession in 2012; rather, U.S. gross domestic product (GDP) will continue to grow at a lackluster rate of 2% to 3%.
Consider recent trends in the Citigroup US Economic Surprise Index, which is calculated on a three-month basis and increases when a data point beats the Bloomberg consensus estimate and declines when a data point falls short of expectations. The data points themselves are weighted by their importance to economic models and historical power to move the stock market.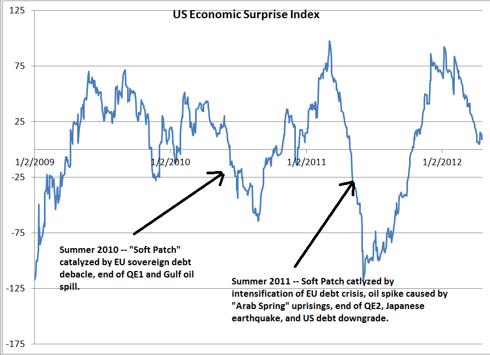 Source:
Bloomberg
The economy's 2010 summer swoon touched off a 17% correction in the S&P 500 between April and July. A number of factors contributed to this breakdown: the first stage in the EU sovereign-debt crisis that resulted in a bailout for Greece; the end of the Federal Reserve's first round of quantitative easing; a major oil spill in the U.S. Gulf of Mexico and concerns that the U.S. government would allow the tax cuts implemented by George W. Bush to expire as planned on Dec. 31, 2010.
After stocks rallied from late summer 2010 into the spring 2011, the U.S. economy found itself mired in another soft patch. The proximate causes of the 2011 summer swoon included: supply-chain disruptions stemming from the earthquake that hit Japan in March 2011; surging oil prices after the outbreak of civil war in Libya; an intensification of the EU sovereign debt crisis; the end of the Fed's second round of quantitative easing; and Standard & Poor's downgrade of the U.S. government's credit rating.
In keeping with the pattern established in the past two years,
U.S. economic growth accelerated in early fall
. A number of downside catalysts could set the stage for history to repeat itself: elevated oil prices; the end of the Fed's efforts to lower long-term interest rates by buying long-term bonds; uncertainty surrounding the upcoming presidential election and subsequent tax policy; and another flare-up in the ongoing EU sovereign-debt debacle.
Trends in the Citigroup U.S. Economic Surprise Index are eerily reminiscent of the summer swoons of 2010 and 2011. The index surged late last year because analysts' estimates had grown overly bearish; today, the consensus expectations have overshot economic realities, opening the door for disappointment.
Seasonal distortions stemming from the winter that never was are one cause for concern. Most economic data points are seasonally adjusted based on historical data to average out predictable fluctuations and isolate emerging trends.
For example, retailers hire people ahead of the holiday season even in bad economies; that employment rises ahead of the holiday season reveals little about underlying trends in the jobs market.
Construction activity and home purchases typically decline in winter months and pick up again during the spring thaw. But last winter was the fourth-warmest in recorded U.S. history. Accordingly, construction activity got under way earlier than usual and home sales that normally would occur in May or June took place on an equally balmy day in February and March. In this situation, the standard seasonal adjustments will skew results.
Consider this little-watched data series from the Bureau of Labor Statistics' monthly "]Employment Situation" report.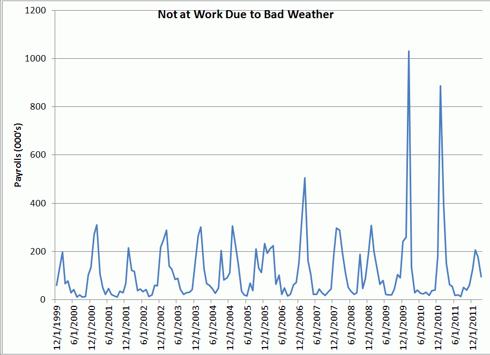 Source:
Bureau of Labor Statistics
This graph tracks the number of employees in the U.S. who missed work because of bad weather – a data point that isn't seasonally adjusted. Usually, there's a spike in weather-related absences during the winter, but the 2011-12 winter brought the fewest missed workdays since the 2000-01 winter.
This trend suggests that the government's normal seasonal adjustments to jobs data – including the widely watched nonfarm payrolls number – overestimated the usual weather-related decline in employment. Larger-than-expected gains in employment in late 2011 and early 2012 have driven the rally in the stock market, but there's a good chance some of the increase stemmed excessive seasonal adjustments.
The March employment number released on April 6, 2012, indicated that the U.S. created 120,000 jobs, falling significantly short of a consensus estimate that called for 205,000 new positions. The latest figure also marks a major deceleration in job creation, from 275,000 in January and 240,000 in February 2012. In fact, the March nonfarm payrolls number was the worst since October of last year.
Seasonal adjustments to employment data tend to be less pronounced in March than in January and February because of improving weather. That the March data disappointed could be the first sign that normal seasonal adjustments in an abnormal winter artificially inflated results.
Investors should also consider another wonky seasonal adjustment: the lingering impact of the economy hitting a wall after Lehman Brothers declared bankruptcy. Factoring this dramatic meltdown into seasonal adjustments could contribute to the mini-boom and mini-bust pattern that's characterized economic growth in the past two years.
Although this hypothesis is difficult to prove, the theory's empirical appeal is difficult to deny: Depression-like data from fall and winter 2008-09 makes for easy comparisons, while the economy's subsequent recovery in summer 2009 provides a tougher hurdle. Over each of the past two years, the U.S. economy has experienced a summertime soft patch and wintertime acceleration. These unusual seasonal swings could be a statistical legacy of the Great Recession.
Nevertheless, the U.S. economy remains on reasonably strong footing and while
a stock market correction could be in the cards
, the U.S. shouldn't slip into recession in the near term. Rather, the biggest risk resides in incoming U.S. economic data that falls short of analysts' elevated expectations.
About the author:
Elliott Gue

Investing Daily provides stock market advice and investment newsletters to help independent investors achieve a secure and rewarding financial future. The site's coverage focuses on finding the most profitable emerging trends in the investment universe to bring investors pragmatic and in-depth coverage of the names that are taking advantage of these opportunities.