Reading through SEC filings the other day, I found a company near its 52-week high of $74. The company name is Anixter International Inc. (NYSE:AXE) and in April, they successfully obtained funding of a $350 million senior unsecured seven-year note in the capital markets at a rate of 5.625%. S&P rated the debt at BB which is the top rating of non-investment grade assets.

Anixter's SEC filing lists several risk factors that have become elevated recently and will impact earnings in the remainder of the year. The elevation of the risk factors, which I will discuss, convinces me that the stock should be closer to its 52-week low of $44 versus it current stock price of $62.

First a little bit about Anixter:

Anixter Inc. is leading global distributor of data, voice, electrical, video and security network communication products and claims to be the largest North American distributor of specialty wire and cable products. They also a are a distributor of "C" Class inventory components which are incorporated into a wide variety of end-use applications and include screws, bolts, nuts, washers, pins, rings, fittings, springs, electrical connectors and similar small parts, the majority of which are specialized or highly engineered for particular customer applications.

Competitors include Arrow Electronics (NYSE:ARW) and Avnet Inc. (NYSE:AVT).

Risk Elevations:

Copper Price:

The company states in its SEC filing that a decrease in copper prices in a short period of time would negatively affect financial results. From the chart below you can see that copper prices fell from $3.88 per pound in early May to $3.56 per pound in mid-May, an 8% move in less than 15 days.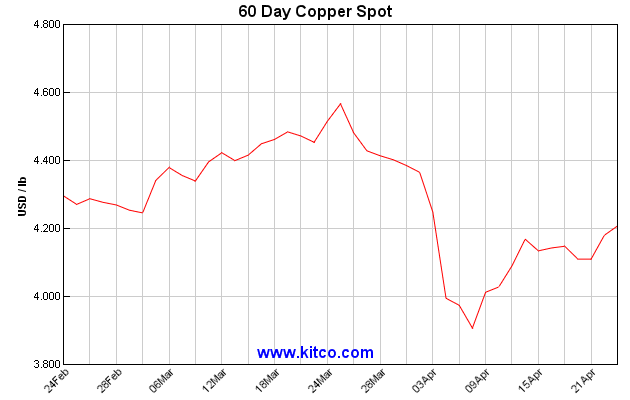 Foreign Currency:

This is another example of my December 21, 2011 article theme of Foreign Currency risk to earning this year. According to a Bloomberg Article "The implied volatility of three-month options on Group of Seven nations' currencies rose to as high as 10.94 percent, the highest since Jan. 9, according to a JPMorgan Chase & Co. index". The dollar's recent strength will impact earnings in the second quarter as the dollar index has risen from 78.78 on April 30 to 81 today, nearly 3% in a few weeks. Anixter's SEC filing indicates that the company prepared a sensitivity analysis of its foreign currency forward contracts assuming a 10% adverse change in the value of foreign currency contracts outstanding. The hypothetical adverse changes would have resulted in the company recording a $15.8 million and $23.2 million loss in fiscal 2011 and 2010, respectively.

With JPMorgan (NYSE:JPM) reporting $2 billion loss in the headlines, I found this comment in Anixter's SEC filing amusing:

"However, as these forward contracts are intended to be perfectly effective economic hedges, the Company would record offsetting gains as a result of the remeasurement of the underlying foreign currency denominated monetary accounts being hedged." Maybe they should speak with JPMorgan CEO Jamie Dimon on "perfectly effective economic hedges."

35% of sales outside the U.S. in 2011:

Anixter indicated that 35% of its 2011 sales were from outside the U.S. With two of the largest countries India and China showing signs of an economic slowdown, sales into emerging markets are likely to decline in the next several of quarters.

Additionally, 19% of total sales came from Europe. Europe is in a recession and is not expected to have any growth for several years. John Chambers, chairman of Cisco (NASDAQ:CSCO), blamed Europe on a slowdown in earnings and its forecast.

Finally, gurus followed on this website who hold stock in this company and reported SEC 13Ds as of March 31, 2012, are Ken Fisher with 3.22% of the company (reduced position by 2% in that period) and Mario Gabelli with .02% of the company. Ray Dalio had sold out of his position according to his Dec. 31, 2011, 13D and John Rogers' Dec. 31, 2011, 13D report indicated .93% ownership.

It is evident that these risk factors will impact earning in the next several quarters. Thus, I do not understand the current stock price near its 52-week high.
Also check out:
About the author:
Carmine Romano

By Carmine Romano. I have leveraged expertise in both commodity and stock markets to drive short-term and long-term trades for personal account. Integrated knowledge of economics, fundamental and technical analysis, and statistics / probabilities theories to realize portfolio growth and profitability.
Selected accomplishment:
• Realized average annualized returns on self managed IRA account of 14% from January 2004 to December 2012 (total return 150+).


Save on home energy bills at www.napower.com/224201