"A few years ago, I said: if people do not watch it, Europe will become an open-air museum for traveling Chinese. Well, we are halfway there."
The quote above was from a
Financial Times
interview with Johann Rupert, Chairman of the Swiss-based Richemont (Switzerland:CFR), the second largest luxury goods group in the world (see "
Tourist Buyers Pose Sales Conundrum
").
The outlook for Europe is not particularly good these days. Even if the Eurozone survives its current crisis—and I believe it will—real domestic growth will be hard to come by going forward.
Debt deleveraging, aging demographics, and—in some cases—shrinking populations suggest that Europe may never again be a major engine of consumer demand, or at least not in the lifetimes of most people reading this article.
Many demographers have warned that Europe risked becoming a
"cultural theme park"
for American, Chinese, and other foreign tourists, or an "open air museum" as Mr. Rupert suggests.
"Giant luxury shopping mall"
might be a better description, however.
Mr. Rupert ought to know. Though Richemont is based in Europe, the biggest buyers of the group's expensive wares—which include the Cartier and Mont Blanc brands among many others—are Chinese nationals.
Richemont is not alone. Barron's
recently reported
that Italian luxury group Prada (Hong Kong:1913) gets 37% of its revenues from Europe, but only 17% of that is actually sold to Europeans. Most of the rest is sold to Asian and specifically Chinese tourists. Counting the nationality of the buyer rather than the location of the sale, 57% of the group's revenues are estimated to come from non-Japanese Asians and another 12% come from Japan. All told, nearly 70% of Prada's sales go to the East.
Precise figures are impossible to come by, but it is believed that
half of the luxury goods sold in Europe in 2011 were to tourists from mainland China.
And this does not include sales made in stores within China itself, which are growing at a startling clip.
Though the United States has its share of luxury brands, such as handbag maker
Coach (COH)
, the luxury goods industry is concentrated in Europe, which also happens to be ground zero of the biggest sovereign debt crisis in generations. And with this crisis comes incredible opportunity.
I've never been comfortable investing heavily in emerging markets. The lack of transparency and corporate governance was always a sticking point for me. I've always preferred to invest indirectly, through the shares of Western firms with a large and growing presence in emerging markets (call it "Emerging Markets through the back door").
The luxury goods sector is particularly well suited for this strategy because not only does it target emerging market consumers, it targets wealthy emerging market consumers that tend to weather economic storms better than the rest.
In recent articles, I have suggested that readers accumulate shares of European and particularly Spanish blue chips on dips (see "
How to Invest for European Armageddon
").
Today, I recommend that readers take their pick of Europe's finest luxury goods companies.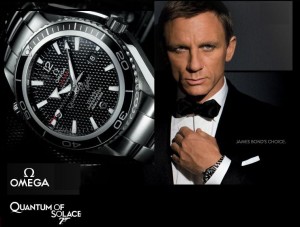 For those investors with access to foreign markets, I recommend shares of both Prada and Richemont.
Swatch Group (Switzerland:UHR)
, the maker if the Omega brand worn by Daniel Craig as James Bond, is also a fine choice.
For those limited to stocks trading in the U.S. market, the shares of the
LVMH Moet Hennessey Louis Vuitton ADR (LVMUY)
are a fine option as well. The shares are liquid enough for most investors to trade without any issues, but investors trading in large lots should use a limit order nonetheless.
China's economy is slowing, and this has caused a stampede out of most luxury names in the second quarter. Alas, it is remarkable how short some investors' memories can be.
We've seen this movie before
. Last summer luxury firms sold off heavily as well, as…you guessed it…fears of a European meltdown and a slowing in China caused investors to dump the sector. But then, a funny thing happened. The slowdown in luxury sales never materialized and 2011 proved to be the strongest year in history for the sector.
Will 2012 prove to be as good of a year for the sector? Only time will tell, but I have no reason to believe this time will be different. Take advantage of any short-term weakness to accumulate shares of high-profile European luxury brands.
About the author:
Charles Sizemore

Charles Lewis Sizemore, CFA is the chief investment officer of Sizemore Capital Management. Please contact our offices today for a portfolio consultation.

Mr. Sizemore has been a repeat guest on Fox Business News, quoted in Barron's Magazine and the Wall Street Journal, and published in many respected financial websites, including MarketWatch, TheStreet.com, InvestorPlace, MSN Money, Seeking Alpha, Stocks, Futures and Options Magazine, and The Daily Reckoning.