I started this monthly
market
valuation series in December 2009. The motivation for the article was to debunk the pundits stating that the market was overvalued because PE TTM was 87. This was ridiculous because earnings were deflated by the worst economic crisis since the great depression. However, the question was how to value the market from a purely quantitative methodology; while ignoring all the outside noise and macro predictions of where the economy is headed. I looked for several different metrics to evaluate the market which over time have proven to be effective and decided to look at all the metrics, instead of just focusing on the last 12 months of earnings.
I was contemplating only updating the valuations on a quarterly basis, since why is there a need every month? However, the market continues to be quite volatile, I consider it useful to evaluate on a monthly basis. When volatility truly gets to lower levels, it will suffice to update these series on a quarterly basis.
What a difference a month makes! In my market valuation article on June 2, 2011, I stated:
I find the current valuations astonishing. No I am not referring to LinkedIn or Groupon or the high fliers. The overall market is so overvalued considering the macro picture. I am not a macro investor, but Wall Street is. It makes no sense for the Shiller PE to be at 23 (an earnings yield of 4.3%), when the deficit is out of control, there is inflation across the board except real estate (the one asset class QE2 was really supposed to help!), housing is in a double dip, unemployment cannot come down for years unless there is job growth of 500k a month (close to impossible). Additionally, the euro zone is experiencing a big crisis, Japan suffered a catastrophic humanitarian and economic disaster, and countries like China are starting to get nervous about over heating in their economies.What further demonstrates the inefficiencies in the market, is the valuation of small caps to large caps. The perma-bulls are looking for companies that have large exposure overseas, especially in emerging markets. However, the large cap companies produce far more of their revenue from overseas than small caps. Yet, large caps are far cheaper than small caps. This really defies logic.
The market declined 5.5% over the past month. Since June 2nd, the S&P500 has decreased 9.4%. I was not predicting that the market would crash, merely that the market would eventually go down to more normalized levels. However, as the data below demonstrates, the market still seems overvalued by most metrics.
The current level of the S&P500 is
1,219
, and the Dow is at
11,614
– lower than last month.
I update market valuations on a monthly basis. The point of this article is to measure the stock market based on seven different metrics. This article does not look at the macro picture and try to predict where the economy is headed.
I collaborate with two colleagues of mine for some of the data in this article, Doug Short of
Dshort
, and Josh of
Multipl
. All are great sites, and I encourage readers to check them out.
As always, I must mention that just because the market is over or undervalued does not mean that future returns will be high or low. From the mid to late 1990s the market was extremely overvalued and equities kept increasing year after year. In addition, individual stocks can be found that will outperform or underperform the market regardless of current valuations. However, as I note at the end of the article I expect low returns for the overall market over the next ten years based on current valuations when the metrics revert towards their mean.
To see my previous market valuation article from last month click
click here
Below are different market valuation metrics as of
September 1, 2011
:
The current
P/E TTM is 15.6, which is slightly higher than the TTM P/E of 15.0
from last month.
This data comes from my colleague Doug Short of
dshort.com
.
Based on this data the market is fairly valued. However, I do not think this is a fair way of valuing the market since it does not account for cyclical peaks or downturns. To get an accurate picture of whether the market is fair valued based on P/E ratio it is more accurate to take several years of earnings.
Numbers from Previous Market lows:
Historic data courtesy of [
multpl.com
]
Current P/E 10 (Shiller) Year Average 21.04, a decrease from the 23.67 level measured last month.
The current ten-year
P/E is 21.04; this is lower than the P/E of 21.04
from the previous month. This number is based on Robert Shiller's data evaluating the average inflation-adjusted earnings from the previous 10 years.
The Shiller P/E is calculated using the four steps below:
Look at the yearly earning of the S&P 500 for each of the past ten years.
Adjust these earnings for inflation, using the CPI (i.e., quote each earnings figure in 2011 dollars).
Average these values (i.e., add them up and divide by ten), giving us e10.
Then take the current price of the S&P 500 and divide by e10.
The common criticism of Shiller's method is that it includes years like 2008 and 2009 when earnings were awful. However, I would argue that it is balanced out by the bubble years of 05-07. Additionally the Shiller P/E (with the exception of 1995-2000, where the stock market went up to absurd valuations) has been a much better indicator of market bottoms and tops than /PE TTM. Two recent examples: In March 2009, the Shiller PE was at 13, while P/E TTM was at approximately 110. At the market top in October 2007, the Shiller P/E was at a very high level of 27.31, while the P/E TTM was only at 20.68.
Robert Shiller stated in an interview recently that he believes the S&P 500 will be at 1430 in 2020. Shiller believes that based on his metric the market is overvalued, and will offer sub par returns over the next 10 years. This number in my humble opinion is in the danger zone. When the Shiller P/E is above 20, future real returns have usually been below 2% per annum.
Based on my colleague, Rob Bennett's
market return calculator
, the returns of the market should be 2.72% annually over the next ten years in the mostly likely scenario.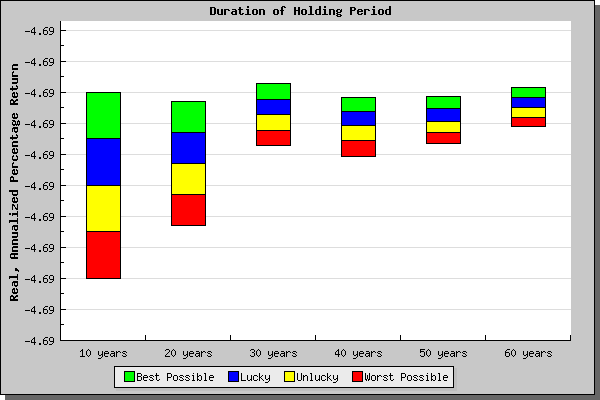 | | | | | | |
| --- | --- | --- | --- | --- | --- |
| Stock Market | Best Possible | Lucky | Most Likely | Unlucky | Worst Possible |
| 10-Year Percentage Returns | 8.71 | 5.71 | 2.71 | -0.29 | -3.29 |
| 20-Year Percentage Returns | 7.72 | 5.72 | 3.72 | 1.72 | -0.28 |
| 30-Year Percentage Returns | 8.38 | 7.38 | 6.38 | 5.38 | 4.38 |
| 40-Year Percentage Returns | 7.28 | 6.38 | 5.48 | 4.48 | 3.48 |
| 50-Year Percentage Returns | 7.29 | 6.49 | 5.69 | 4.99 | 4.29 |
| 60-Year Percentage Returns | 7.67 | 7.02 | 6.37 | 5.77 | 5.17 |
Rob states:
This new calculator tells you what return you can reasonably expect at various time-periods from an investment in the S&P stock index, presuming that stocks perform in the future much as they have in the past. The results are expressed in terms of real, annualized total (that is, with dividends reinvested and without additions or subtractions to principal) returns.
My colleague Doug Short thinks the Shiller's numbers are a bit inaccurate because the number used above does not include the past several months of earnings, nor revisions. Doug calculates P/E 10 at
20.1
Mean: 16.40Median: 15.78
Min: 4.78 (Dec 1920)
Max: 44.20 (Dec 1999)
Numbers from Previous Market lows:
Mar 2009 13.32
Mar 2003 21.32
Oct 1990 14.82
Nov1987 13.59
Aug 1982 6.64
Oct 1974 8.29
Oct 1966 18.83
Oct 1957 14.15
June 1949 9.07
April 1942 8.54
Mar 1938 12.38
Feb 1933 7.83
July 1932 5.84
Aug 1921 5.16
Dec 1917 6.41
Oct 1914 10.61
Nov 1907 10.59
Nov 1903 16.04
Data and chart courtesy of [
multpl.com
]
Current P/BV 2.37
I thought the metric would be great for figuring out market returns because as
Tweedy Browne
and
David Dreman
demonstrate through extensive research, a basket of the lowest P/B stocks over long periods of time dramatically outperforms the market. It therefore would make sense that the P/B metric would be useful for evaluating the market itself in terms of overvaluation or undervaluation.
Horizon Asset management
http://www.hamincny.com/docs/Horizon_Commentary_1stQuarter_2011.pdf
used the same numbers for P/B provided by Standard and Poors and came up with a whopping 3.68% (for April), according to the same numbers that I used to came up with closer to 2.30%, and so did many other people, including Barron's. Since the vast majority seems to conclude similar numbers to mine I will go with that figure over Horizon's. The number that I used, I obtained using data from Barron's, and updated using the latest change in the price of SPY. I am not sure where Horizon got their data from — no one else has measured book value at such a high rate. Unfortunately, there is very little data regarding P/B. I have been able to find close to no historic data on the metric. Additionally, my number was always an outlier which made me suspect my numbers might be wrong. I even had a Ph.D. student
contact
me to ask if there was any data available on price/book. I told him no. If you are reading this or anyone else, and have the data, I would be grateful if you sent it to me.
The average price over book value of the S&P over the past 30 years has been 2.41. Book value is considered a better measure of valuation than earnings by many
investors
including legendary investor
Martin Whitman
. He states that book value is harder to fudge than earnings (although book value can easily be distorted). In addition, book value is less affected by economic cycles than one year earnings are. P/BV therefore provides a longer term accurate picture of a company's value than a TTM P/E. I will continue my search for PB numbers.
Current Dividend Yield 2.00


The current dividend yield of the S&P is
2.00
. This number is
higher than 1.75
from last month. The number is not so low considering the 10-year treasury is yielding 2.23%. Recently as another flight to safety has occurred, treasury yields have gone down, and the stock market has declined, pushing up the dividend yield.
For attractive yield check out my recent article about Australian debt:
http://www.valuewalk.com/bonds/high-yield-low-risk-look-to-australia/
.
It is hard to determine on this basis whether the market is overpriced. The dividend yield for stocks was much higher in the beginning of this century than the later half. The dividend yield on the S&P fell below the yield on 10-year treasurys for the first time in 1958, after the flight to safety when Lehman Brothers collapsed. Many analysts at the time argued that the market was overpriced and the dividend yield should be higher than bond yields to compensate for stock market risk. For the next 50 years the dividend yield remained below the treasury yield and the market rallied significantly. In addition the dividend yield has been below 3% since the early 1990s. While I personally favor individual stocks with high dividend yields, I must admit that the current tax code makes it far favorable for companies to retain earnings than to pay out dividends. Finally, as I noted above, the current economic environment has zero percent
interest rates
and low bond yields. During periods where yields are low it is logical for income oriented investors hungry for yield to be bid up the market, and dividend yields to decrease. I think it is hard to
claim
the market is overbought based on the low dividend yield.
Mean: 4.34%Median: 4.28%
Min: 1.11% (Aug 2000)
Max: 13.84% (Jun 1932)
Numbers from Previous Market lows:
Mar 2009 3.60
Mar 2003 1.92
Oct 1990 3.88
Nov1987 3.58
Aug 1982 6.24
Oct 1974 5.17
Oct 1966 3.73
Oct 1957 4.29
Jun 1949 7.30
Apr 1942 8.67
Mar 1938 7.57
Feb 1933 7.84
July 1932 12.57
Aug 1921 7.44
Dec 1917 10.15
Oct 1914 5.60
Nov 1907 7.04
Nov 1903 5.57
Data and chart courtesy of [
multpl.com
]
Market Cap to GDP is currently 85.2%, which is significantly lower than the 97.2% level from last month.
| Ratio = Total Market Cap / GDP | Valuation |
| --- | --- |
| Ratio | Significantly Undervalued |
| 50% | Modestly Undervalued |
| 75% | Fair Valued |
| 90% | Modestly Overvalued |
| Ratio > 115% | Significantly Overvalued |
| Where are we today (08/31/2011)? | Ratio = 85.3%, Fairly valued |
Also check out: