Netflix Inc. (NASDAQ:NFLX) is a company that had a bright future when it began trading in 1997. The Internet, for many, was a new thing. Being able to receive films and television through the post was a novelty. Having access, at any time of day or night, to favorite films and television programs online was a powerful selling point for its services and a boon for those that live life at the fast, modern pace. But without real innovation, and with the rest of the world catching up, Netflix has run into an immovable road block.

Its second quarter results showed a record 24.6 million subscribers across the U.S., up from 15 million a year earlier. The stock hit an all-time record of $304.79. Shares now trade around $71.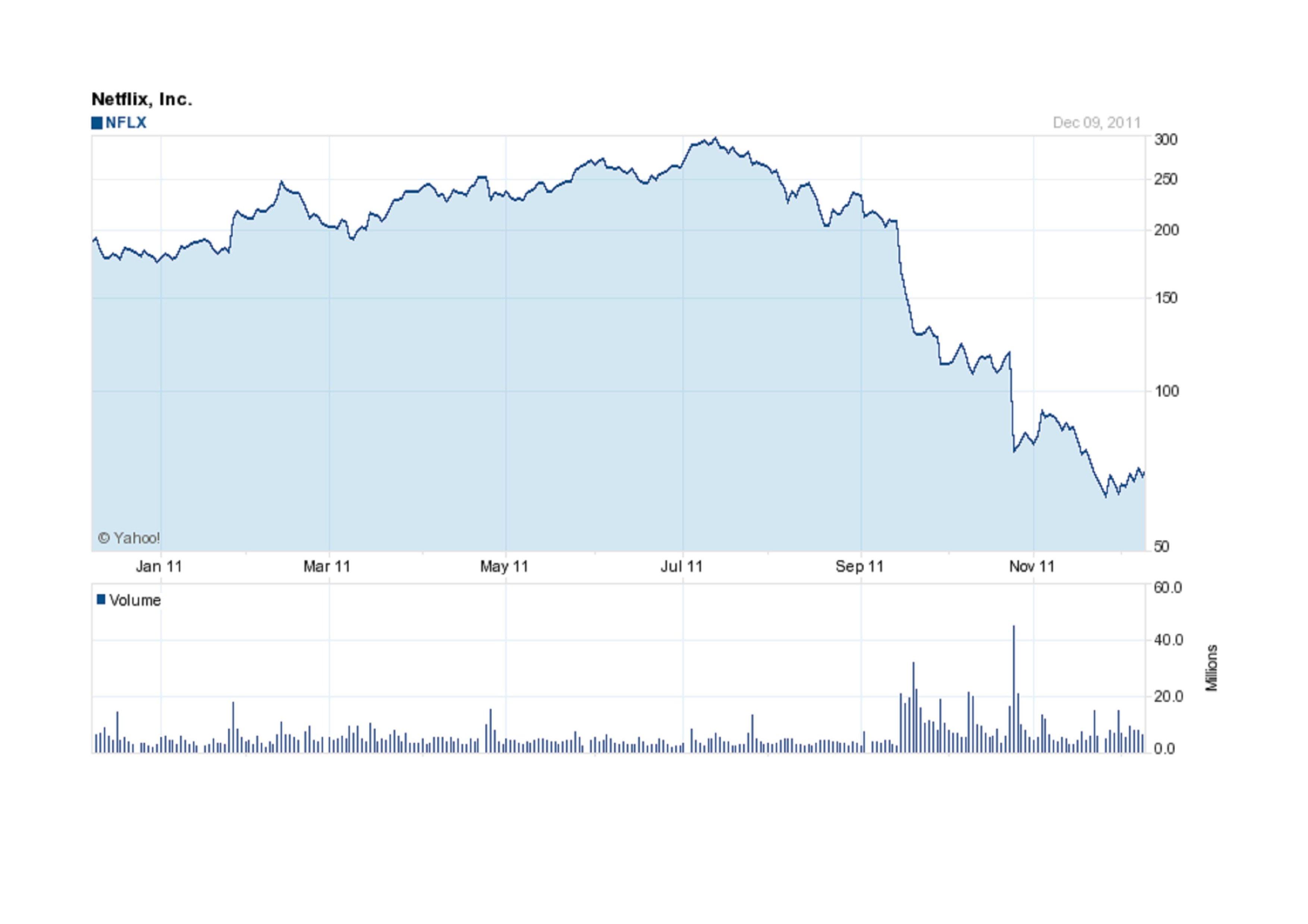 Then came its decision to raise prices on July 12. And not just a rate of inflation raise, either. Prices on its packages rose from $9.99 per month and $14.99 per month to $15.98 and $19.98, respectively.

Then came its Qwikster debacle. The company announced it intended to split its services in two: home delivery DVDs under the brand "Qwikster," and streaming services under Netflix. This would have created two bills for many of its customers. Perhaps the company was trying to separate into two brands for a later sale of the DVD delivery business? Whatever the reason, the decision was reversed under a barrage of customer complaints.

Then the customer withdrawals began. In its third quarter results, the company announced that its subscriber numbers had fallen by 800,000. It also announced it expects to make losses for several quarters as it looks to expand abroad, and subscriber numbers at home continue to slide. For this type of business as with companies like Sirius Satellite (SIRI), subscribers are everything.

The company has around $366 million cash in the bank and debts of $235 million. Its international expansion plans have left it with commitments totaling $3.5 billion at the end of September. This is up from $1 billion at the end of 2010, and has prompted Standard and Poor's to downgrade its credit rating to BB-minus — real junk bond territory.

When looking at NFLX, I tried to come up with some positives. I couldn't find a single one. Even the company admits that it is facing several quarters of losses. It may be a little optimistic in its forecasts. Subscriber numbers in the U.S. are due to continue to fall. The Internet, which drove NFLX's business model, is now the bar to further expansion as customers find easy access to television and film content. Potential customers in Europe have lived without Netflix, why change? At some point, studios will offer their content directly to the viewing public: Look at what has happened in the cheap flight industry. NFLX has a business model that is dying on its feet, and quickly.

Very soon, NFLX's debt position will likely be catastrophic, its subscriber numbers shot to shreds, and its costs skyrocketing. For these three reasons, the massive fall in NFLX's share price since June is, I fear, a precursor of worse to come in 2012. I'd sell this dying stock and never look back.
About the author:
Investment Underground

Buy low and sell high is easier in theory than in practice– and that's where we come in.

At Investment Underground, our editors are disciplined, independent thinkers who will inform you when to buy undervalued investments, recognize catalysts, and sell when full value is realized. We provide timely, detailed analysis of our value investing strategies and help you achieve your goals of a reduced-risk trading environment.

If you are fed up with volatile markets and manipulation that put your financial well-being in jeopardy, join us to achieve those gains you deserve without the headache.