Integrys Energy Group
(
TEG
) is rapidly approaching a return to dividend growth for the first time in more than two years.
Earnings excluding one-time items rose to $3.38 per share in 2011, reducing the payout ratio to 80.5 percent.
And the mid-point for 2012 earnings guidance, even including writeoffs, is $3.45 per share, which would take the ratio below 80 percent for the first time since 2005.
Attaining management's long-run goal of 4 percent to 6 percent annual profit growth will depend on continuing to close the gap between allowed return on equity and what's actually earned, which was $15.4 million in 2011.
The company will benefit from the resolution in 2011 of four rate cases, accelerated main replacement in Illinois, strong earnings from its 34 percent ownership of American Transmission Company and steady growth of commercial and industrial customers.
Integrys' balance sheet earned an upgrade to A- from S&P in January. This was long overdue given the company's focus on regulated businesses and the de-risking of remaining unregulated operations such as retail energy marketing.
The $490 million of debt maturing between now and the end of 2013 is 11.9 percent of market capitalization but carries coupon interest rates a percentage point above the yield to maturity on Integrys' 24-year debt.
This implies a considerable opportunity to
cut interest costs
again in 2012, following last year's 12.9 percent reduction. This makes Integrys Energy Group a great
energy stock pick
for income investors.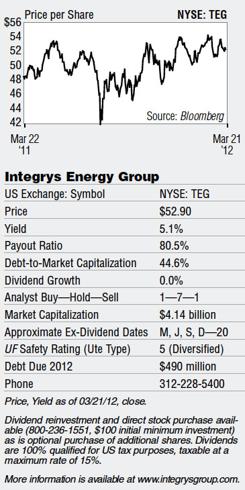 About the author:
Roger Conrad

Investing Daily provides stock market advice and investment newsletters to help independent investors achieve a secure and rewarding financial future. The site's coverage focuses on finding the most profitable emerging trends in the investment universe to bring investors pragmatic and in-depth coverage of the names that are taking advantage of these opportunities.