The Economist
had an info graphic in the last print edition that puts emerging market investing in perspective. The market caps of the local MSCI indices–which are the benchmarks for most emerging-market ETFs– are compared to the market caps of comparable Western companies: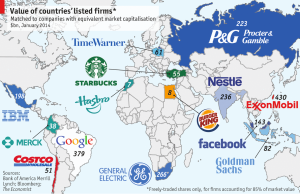 From
Scare
in the January 18, 2014 issue of
The Economist
.
The market cap of Mexico, as represented by the
iShares MSCI Mexico ETF
(
EWW
) is the size of
IBM Corp
(
IBM
). And the markets of Colombia (
ICOL
), Chile (
ECH
) and Brazil (
EWZ
) are the sizes of
Merck
(
MRK
),
Costco
(
COST
) and
Google
(
GOOG
), respectively.
And what about Eurasian markets like Turkey (
TUR
), Russia (
ERUS
) and India (
INDA
)? Try
Starbucks
(
SBUX
),
Procter & Gamble
(
PG
) and
Nestle
(
NSRGY
), respectively.
Interestiny, South Africa (
EZA
)–which is one of my favorite markets for the next decade–has a market cap about the size of
General Electric
(
GE
), the sixth-largest publically-traded company in the world with a market cap of over $260 billion. For a country of South Africa's population size (a little over 50 million people) and level of development (per capita GDP of about $6,000), that represents a high level of market depth and sophistication. Compare that to Egypt, which has a market cap on par with
Burger King
(
BKW
)at less than $8 billion.
What conclusions can we draw from this?
To start, most emerging markets are still very small and relatively illiquid. This is both an opportunity and a risk. Because of their relatively small size, an inflow of foreign capital can send them flying in short order, as we saw during the bull markets of the early and mid 2000s. Of course, the flipside of this is that that same money can disappear very quickly, causing liquidity to dry up almost instantly.
Bottom line: Invest in emerging markets, but keep a level head. Expect it to be volatile, and take a more active approach. Buy after the hot money has already fled and bargains abound. And when you start seeing the guests on CNBC advising you to allocate to emerging markets again, start looking for an exit.
About the author:
Charles Sizemore

Charles Lewis Sizemore, CFA is the chief investment officer of Sizemore Capital Management. Please contact our offices today for a portfolio consultation.

Mr. Sizemore has been a repeat guest on Fox Business News, quoted in Barron's Magazine and the Wall Street Journal, and published in many respected financial websites, including MarketWatch, TheStreet.com, InvestorPlace, MSN Money, Seeking Alpha, Stocks, Futures and Options Magazine, and The Daily Reckoning.