Online stock screeners are versatile investment tools, and every investor should use them to generate investment ideas that merit further research. But, before you use a stock screener, you must decide how to use the results of your screen. Some investors build very broad screens to be used simply for creating a pool of investment ideas, while others build more specific screens because they intend to buy the stocks that fulfill their stringent criteria.

I prefer to use stock screens to generate investment ideas, so I usually work with very broad criteria to create a basic screen for growth-oriented stocks.

First, I specify the minimum market capitalization of a stock I'm willing to consider. I typically avoid small-cap stocks because of their greater volatility, but I'm willing to consider those names on the edge of the threshold between small-cap stocks and mid-cap stocks. As such, I set my minimum market cap at $750 million.

From there, I add layers of basic growth criteria: 15 percent annualized average revenue and earnings-per-share (EPS) growth over the past five years. When I sort the results from this screen, I like to see EPS growing faster than revenue. That's an indication that the company is effectively controlling costs and realizing economies of scale as it boosts its sales volume — the very definition of a healthy growth company.

Many investors aren't troubled by growth companies that carry sizable debt burdens, particularly if they're using it effectively to fuel growth. But I still haven't forgotten the lessons from the Great Recession and therefore seek firms with low levels of leverage. I screen for companies that have debt-to-equity ratios of less than 0.75. A high debt-to-equity ratio indicates that a company has been aggressively financing growth, which can lead to higher share price volatility due to less predictable earnings.

Additionally, companies should have ample cash on hand to cover their short-term liabilities, so I screen for companies with a current ratio of at least 1.5 and net profit margins.

While acceptable profit margins vary from industry to industry and will often be lower for younger companies, I look for a minimum of 10 percent net profit margin. Return on equity basically measures management's skill in allocating investors' capital. The higher the ROE, the more profitable the company is for the shareholder. I screen for a minimum of 15 percent ROE.

This screen will return between 20 and 30 companies, most of which are more mature growth stocks. If you prefer more aggressive fare or would simply like more results to analyze, you can loosen the screening criteria on profit margins, ROE, and debt measures or reduce the minimum market capitalization to include smaller companies. You can also increase EPS and revenue growth rates to narrow the results down to only the fastest-growing companies. Most online stock screeners allow users to set minimum and maximum values for any of these criteria, so the screen can be easily customized.

Here's an example of a basic screen constructed in accordance with the growth criteria and my analysis of five growth stocks that populated the results of my screen.

This screen shot shows how this basic screen appears after I've input my growth stock criteria using Google Finance's screening tool: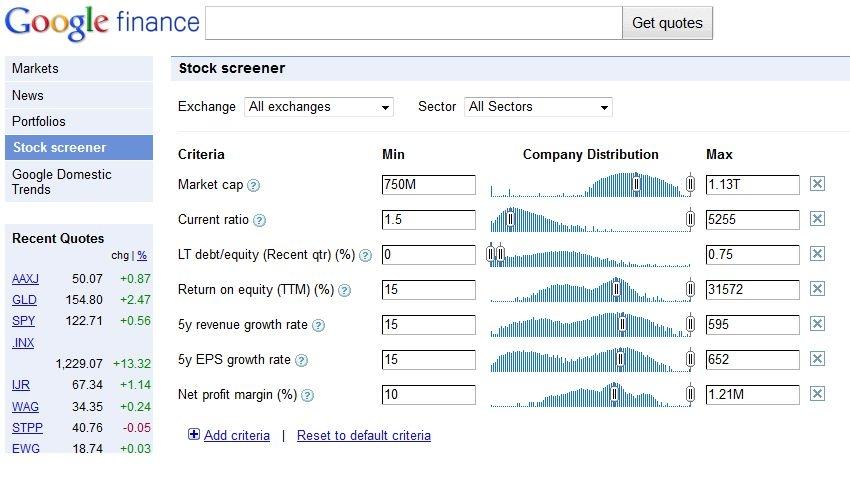 Source: Google Finance

When I ran this growth screen on December 1, the screen returned 27 results, all of which had ample cash on their balance sheets and low levels of long-term debt. These names had also managed to steadily grow their revenue during the Great Recession. Among the companies on this list, I saw familiar names interspersed among more obscure fare:


These five companies are just a representative slice of the 27 companies my screen returned, and NIC is one name which I plan to research further. In fact, NIC offers a perfect example of using stock screens to discover unexpected
growth opportunities
.
About the author:
investingdaily

Investing Daily provides stock market advice and investment newsletters to help independent investors achieve a secure and rewarding financial future. The site's coverage focuses on finding the most profitable emerging trends in the investment universe to bring investors pragmatic and in-depth coverage of the names that are taking advantage of these opportunities.