The 2000 technology bust and subsequent collapse of the high-flying Nasdaq left many investors with the perception that technology is a high-risk, volatile sector that's only appropriate for the most aggressive growth investors.

That sentiment is downright anachronistic. The S&P 500 Information Technology Index has a beta of 0.96 over the past five years; indexes with betas lower than 1.0 are less volatile than the broader market. More importantly, technology stocks have outperformed the broader market by a sizable margin despite their below-average risk (see "Tech Sector Shines").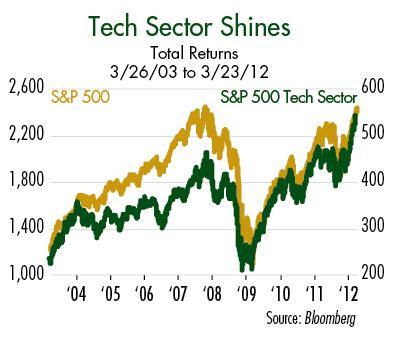 Technology is the most cash-rich and least indebted sector in the S&P 500. Some of the bigger tech stocks including Apple (NASDAQ:AAPL) and Cisco Systems (NASDAQ:CSCO) generate so much idle cash they're initiating dividends to return value to shareholders. Tech companies now hold 30 percent of all cash among non-financial balance sheets in the S&P 500 ($360 billion out of $1.1 trillion).

What's more, the technology sector enjoys significant growth opportunities in the years ahead. Mobile devices such as smartphones and tablet computers have transitioned from niche products into the mainstream. As first posted on Investing Daily's Facebook page, between 2010 and 2012, total tablet sales are expected to more than quintuple (see "The Tablet Wars").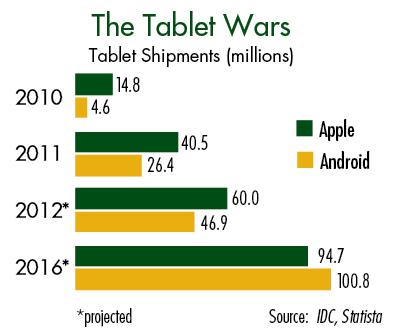 Meanwhile, Facebook, Twitter and other social media websites are transforming the way consumers and businesses interact. Just a decade ago, Facebook didn't exist. Today, this social media powerhouse claims nearly 500 million active daily users worldwide (see "The Social Network").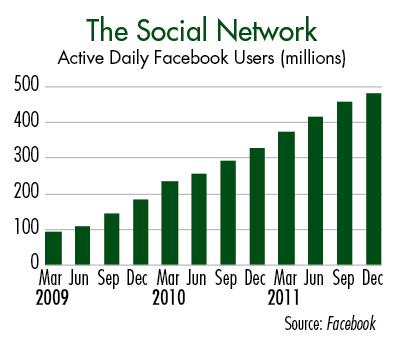 Here's a look at one of the more attractive names in tech.

The Nimble Acrobat

Adobe Systems (NASDAQ:ADBE) develops and sells products that allow users to share information across all print and electronic media.

The crown jewel in Adobe's product line is Creative Suite (CS), a portfolio of software tools to create online and printed documents including websites, newspapers, magazines, brochures and books. CS has become the industry standard and many creative professionals learned their craft using CS software. Designers switching to a competing product would have to learn an entirely new software platform, giving CS a high degree of customer "stickiness."

CS product cycles historically have driven Adobe's stock price. The company now is selling CS5, with a new version of the software due in May. According to a recent company survey, 40 percent of existing CS5 users are interested in upgrading to CS6, suggesting rapid market acceptance and immediate growth opportunities.

CS6 will introduce new features likely to be embraced by many design professionals as critical, including support for HTML5, a language for structuring content on the Internet. The new software will include tools that facilitate development of mobile applications, as well as tools designed for tablet computers.

CS6's "Creative Cloud" offering also will allow users to subscribe to CS6 as a software-and-service bundle, reducing the upfront cost of buying the product. Creative Cloud will offer users access to both Mac and Windows versions of all software, providing the option of a subscription model for the company's highly popular tools.
About the author:
investingdaily

Investing Daily provides stock market advice and investment newsletters to help independent investors achieve a secure and rewarding financial future. The site's coverage focuses on finding the most profitable emerging trends in the investment universe to bring investors pragmatic and in-depth coverage of the names that are taking advantage of these opportunities.