Investors would be hard-pressed to find a better growth story than consumers' intensifying love affair with smartphones, media tablets and other portable devices that allow users to access the Internet, watch online videos and download games and music.

Despite the sluggish global economy, International Data Corp (IDC) estimates that smartphone shipments in 2011 surged to 491.4 million units — up 61.3% from year-ago levels. The market research firm calls for shipments of these advanced handsets to reach 660 million units in 2012, an annual growth rate of about 33%. IDC expects shipments to grow to 1.1 billion smartphones by 2015. (See "Smart Growth.")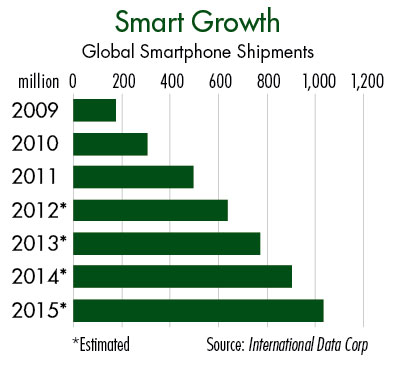 Meanwhile, consumer demand for media tablets continues to surpass expectations, with Apple (NASDAQ:AAPL) selling out the first run of its latest iPad earlier this year. According to IDC, manufacturers shipped about 68 million tablets in 2011. The research firm forecasts that tablet shipments will climb by 54.4% in 2012 and top 196 million units in 2016.

Investors seeking to profit from growing sales of smartphones and media tablets should remember that technology and consumer tastes don't stand still but often evolve in unexpected ways.

Shifting trends in mobile connectivity can transform a big winner into a loser in a relatively short period. Consider the fate of Motorola, which failed to capitalize on the momentum from its popular flip-phones and make the jump to web-enabled handsets. Research In Motion (RIMM) similarly stumbled because of its inability to follow the success of its pioneering BlackBerry handsets with a hit smartphone.

Fortunes can change even more rapidly among the chipmakers that produce the internal components in smartphones. Not only must semiconductor manufacturers contend with Moore's Law, growth stocks tend to exhibit considerable volatility and can surge or tumble based on the slightest rumor of a major design win or loss. For example, shares of OmniVision Technologies (OVTI), a leading producer of image sensors, plummeted because of pricing pressure and lost business on Apple's iPhone 4S. The stock has recovered somewhat after a teardown of the new iPad 3 revealed that OmniVision Technologies had supplied the device's front and back cameras.

Qualcomm (NASDAQ:QCOM) has been riding a wave of success in the sector and remains one of my top growth plays on the continuing migration to smartphones capable of operating on third-generation (3G) networks and the accelerating adoption of fourth-generation (4G) handsets.

Unlike OmniVision Technologies and other niche semiconductor manufacturers, Qualcomm reaps the rewards of the mobile revolution regardless of which handset makers are gaining or losing market share. The leading owner of intellectual property related to mobile connectivity, Qualcomm receives a steady stream of royalties from the sale of every 3G-enabled smartphone and media tablet. With the number of 3G connections expected to more than double to 3.4 billion over the next four years, Qualcomm's licensing business will generate robust and reliable cash flow for the foreseeable future.

The chipmaker hasn't rested on its laurels, amassing a significant portfolio of key patents related to 4G technologies and developing advanced base-band chips that feature prominently in a number of popular devices.

Qualcomm's licensing revenue ticked up 6% sequentially in its fiscal first quarter ended Dec. 25, 2011, as major U.S. carriers accelerated rollouts of high-speed 4G networks and handset makers introduced the devices to take advantage of this technology. A rising average selling price (ASP) on media tablets and 4G smartphones helped offset revenue diminution from declining ASPs on 3G handsets.

The company's powerful SnapDragon baseband chip is used by more than 50 manufacturers in over 340 designs, including best-selling smartphones that run the Android operating system now owned by Google (NASDAQ:GOOG). Qualcomm's chip shipments climbed to a record high in the fiscal first quarter, fueled by a major design coup: The firm is the sole supplier of baseband chips in Apple's iPhone 4S. Management also cited the strong penetration of the SnapDragon chip in the Chinese market as a major growth driver.

These tailwinds, coupled with the launch of a host of devices running Microsoft Corp's (NASDAQ:MSFT) Windows 8 operating system, prompted management to raise its full-year revenue forecast to between $18.7 billion and $19.7 billion — an annual growth rate of 25% to 31%.
About the author:
Elliott Gue

Investing Daily provides stock market advice and investment newsletters to help independent investors achieve a secure and rewarding financial future. The site's coverage focuses on finding the most profitable emerging trends in the investment universe to bring investors pragmatic and in-depth coverage of the names that are taking advantage of these opportunities.