There has been a substantial portion of advisors over the decades who have recommended gold as a primary investment for portfolios. The chart below compares the weekly closing price of the London 3PM pricing of gold (GLD) (left scale) to Exxon Mobil (NYSE:XOM) (right scale) and a gold indexed XOM created by pricing XOM to the $301.76 Jan. 11, 1985, price of gold (left scale).

It is important to note that gold does not pay a dividend while XOM has paid a dividend for all of the history shown here and currently at $92.47 carries a 2.47% dividend yield. The return shown in the chart does not include the XOM dividend return to investors. If I had included the dividend, XOM indexed to gold would have exceeded $6,000 by my estimate.

Gold is one of many commodities which receive investment capital during periods of high financial stress when investors worry that capital may be eroded by inflation or currency debasement. Gold and XOM have experienced identical environments the past 32 years. The difference between these two investment choices is that gold's appreciation is not due to any inherent return to investors. Gold does not meet society's needs through a productive and evolving value creation process. Gold does not earn a rate of return nor does it pay a dividend. Gold is only up when fears are strongest, but it falls when market psychology once again believes that society will not implode and investors are able to focus on true investment returns.

Exxon Mobil is a company which is managed by individuals seeking investment returns, part of which is paid to investors in the form of a dividend. The management culture has been such that successive CEOs have maintained a combined approximately 14% compounded growth rate comprised of approximately 11.5% of common stock growth and approximately 2.5% dividend yield since 1985. Exxon Mobil, which has a history of being managed by competent individuals, has continuously adjusted to changing business conditions. The current CEO is Rex Tillerson, and he seems to be on the same pace as his predecessors.

Price Change from Jan. 11, 1985:


Exxon Mobil $301.76 to $4,947 (without dividend) over approximately $6,000 (with dividend)

Gold $301.76 to $1,742
In my experience, anticipating changes in market psychology as it pertains to investment opportunities is nigh impossible. But being able to identify the better CEOs is something that is possible. Rather than attempt to gauge when changes in market psychology are likely to occur, what one can do is (by being attuned to the various economic trends) enter a particular asset class when most investors are very pessimistic and hold till investors have turned more optimistic. This coincides with the broad economic cycle and is the reason it is called "business cycle value investing." It is easier in my opinion to buy something like Exxon Mobil which has an identifiable investment growth record when few want to own it and hold till the market sentiment re-prices the issue higher than try to judge how the price of gold with sentiment changes.
My advice always recommends well-managed commodity companies versus the commodities themselves. This is not a recommendation to buy Exxon Mobil, but meant to show the value of investing in well-managed companies. In my experience well-managed investments outpace commodity related investments over the long term. Exxon Mobil is a well-known example.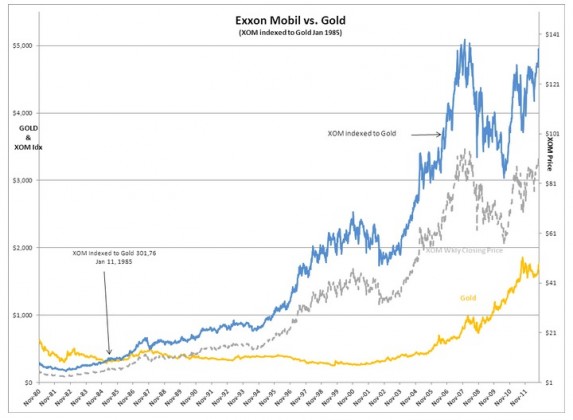 About the author:
Todd Sullivan
Charlie Tian, Ph.D. - Founder of GuruFocus. You can now order his book Invest Like a Guru on Amazon.