"The Guardian" ran the following interview with world class investor Jeremy Grantham: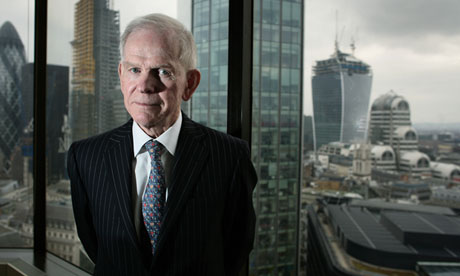 One icy morning in February, a train pulled into Washington DC. It was loaded with environmentalists planning to handcuff themselves to the gates of the White House, in protest at the building of a 3,500km oil pipeline from Canada to the Gulf of Mexico. Amid the hundreds of placard-carrying protesters stood a somewhat incongruous figure in a suit – Jeremy Grantham, a 74-year-old fund manager. "What we are trying to do is buy time," he told reporters. "Buy time for the world to wake up."

Grantham – who occupies a legendary place in the world of finance for predicting all the major stock market bubbles of recent decades (and doing very well in the process) – had decided, after 15 years of low-key environmental philanthropy, to, as he puts it, "walk the walk".

"I was committed to getting arrested," says Grantham, a tall, slight man, as he looks out across the City from his London office on the 15th floor of a glass-and-steel tower next to the Bank of England. He speaks machine gun-quickly in a soft, mid-Atlantic accent. "But the day before [the protest] my wife checked with the lawyer, who said, 'Don't do that!'" It turned out that being arrested would give him serious problems when it came to travelling. "I've had a green card since completing my MBA at Harvard in 1964."

Grantham, co-founder and chief strategist of GMO, a Boston-based global investment group, manages $106bn (£69bn) of assets on behalf of 1,000 institutional investors, and employs 600 people, so he decided that the fallout would be too great. He was forced to stand back and watch as his daughter Isabel got arrested, alongside the actor Daryl Hannah, the US's highest-profile environmentalist Bill McKibben, andNasa climate scientist James Hansen.

So he is speaking out instead. From where he stands, this bubble, the "carbon bubble", is the biggest he's seen. "We're already in a bad place. The worst accidents are [only] 20, 30, 40 years from now." Such apocalyptic talk is often the preserve of deep-green doom-mongers – the kind of talk that has led many to reject environmentalism. But Grantham insists he's guided "by the facts alone". On some issues (immigration and education) he "would be considered rightwing", but with the environment, he says he calls it as he sees it. He is disdainful of those who ignore the data, or worse, misinform the public.

"I find the parallels between how some investors refuse to recognise trends, and our reaction to some of our environmental challenges, very powerful," he says. "There is an unwillingness to process unpleasant data. In a bull market you want to believe good news. You don't want to hear that the market is going to go off a cliff." He finds climate sceptics – led by a "little army of non-scientific, persuasive loony lords", as he characterises them (a barely disguised reference to the former Conservative chancellor Lord Lawson and Ukip's Lord Monckton, both of whom promote, to varying degrees, climate-sceptic views) – a frustrating ideological phenomenon. "They have profound beliefs – as opposed to knowledge – that they are willing to protect by all manner of psychological tricks. So you have people who are very smart – great analysts and hedge-fund managers – who on paper know that their argument is wrong, but who promote it fiercely because they are libertarians. Anyone with a brain knows that climate change needs governmental leadership, and they can smell this is bad news for their philosophy. They are using incredible ingenuity to steer their way around facts they do not choose to accept."

Grantham, who was born in Hertfordshire and raised by his Quaker grandparents in Doncaster, freely admits to being a "late arrival to all this". After completing a degree in economics at the University of Sheffield in the early 1960s, he worked for a short stint at Shell before going to Harvard for an MBA. In 1977, he co-founded GMO [Grantham, Mayo, Van Otterloo]. Making his clients – and himself – wealthy filled his working days until the mid-1990s. And then he went on holiday with his children, to the Amazon and Borneo. "And without thinking about it, you start talking about the logs along the side of the river and the lack of mature forests in Borneo." He smiles, seeing the risk of being accused of being driven by emotion rather than rigorous statistical analysis. "That played a role, but we didn't treat it as an epiphany."

Continue reading here.
Also check out:
About the author:
Canadian Value

http://valueinvestorcanada.blogspot.com/