There is a lot of uncertainty regarding the future of the defense industry under the Obama Administration and Defense Secretary Robert Gates. Proposed efficiency initiatives call for a realignment of defense spending indicating only modest growth in the defense budget of 1% to 2% over the next few years. "
Learning to do more without more"
is the battle cry of the current administration. The stock market does not like uncertainty, therefore, many leading defense stocks have come under a lot of selling pressure driving valuations to low levels not seen in years. However, not every company in the defense industry is on sale today. One of the prime objectives of this two-part series is to review well-known companies in the defense industry that offer a dividend yield. It will be up to the investor to draw their own conclusions regarding the investment merit of any specific company.
A Necessary Evil
There exists a lot of controversy and contradictory views regarding how much we should spend on defense. On the other hand, it is hard to argue with the unfortunate reality of a world where wars are being waged and terrorism proliferates. Questions about efficiency are different than those about necessity.
A strong defense is an undeniable necessity in today's world. Therefore, our country and the rest of the world needs a strong and vibrant defense industry in order to protect world freedom and, ironically, maintain peace. Consequently, there is little doubt regarding the future existence of companies operating in the defense industry, only the future growth rate is in question.
As this article will point out there are many differences between the operating histories of individual companies that operate in the defense sector. Some are very cyclical while others have long histories of consistent growth of earnings and dividends. In total we will cover 10 prominent companies in the Aerospace and Defense sector that pay dividends. Their dividend yields will range From low of 1.7% to a high of 3.5%.
In this Part 1 of our two-part series we will feature L-3 Communications (
LLL
) and provide a more in-depth analysis of this investment-grade company that we believe is being unfairly punished by today's market action. In Part II, we will cover the other nine examples solely through the lens of our EDMP, Inc. F.A.S.T. Graphs™. This first example is offered to illustrate the importance of conducting thorough analysis. The EDMP, Inc. F.A.S.T. Graphs™provide a great starting point, but should never be the final word. However, they can help the investor decide whether further research is worthwhile in pursuing.
L-3 Communications: Low valuation, strong dividend equal opportunity
L-3 Communications is the sixth largest defense contractor in the United States. As previously mentioned fears of cuts in our defense budget under the Obama Administration have driven the price, and we believe the valuation of L-3 Communications' stock to unjustifiably low levels. This is in spite of numerous company announcements of being awarded new contracts and several strategic acquisitions that promise to be immediately accretive to earnings. Therefore, we believe the market is grossly under-pricing this financially strong high-quality enterprise.
In May 2010 we published a similar article touting the virtues of this large-cap blue chip when valuations were higher than they are today. In that article we provided a comprehensive analysis of the company and the prospects for growth of each of its four primary business segments. Since, generally speaking, very little has changed regarding your views on L-3 Communications' vital and important role in keeping our country safe and strong, we refer you to this article (
New Insight and a Growing Dividend Make L-3 Communications an Undervalued Opportunity
). Consequently, today's article will focus on the few specific changes that have taken place since our May review.
September 27, 2010, Zacks Equity Research reported that L-3 Communications was awarded the following contract:
September 27, 2010


The U.S. Air Force has awarded a $29.4 million contract to L-3 Communications Holdings Inc. (LLL – Analyst Report) effecting modifications to four MC-130W aircrafts. Under the contract, L-3 Communications' subsidiary TCS Inc. will install a precision strike package on the aircrafts. The MC-130W aircraft was originally developed by Lockheed Martin Corporation (LMT – Analyst Report) for use by the special operations forces for their missions.
This announcement by Zacks Equity Research on September 27, 2010 follows a series of promising press releases from L-3 Communications since our May 10, 2010 article. We feel the following headlines speak for themselves, however, the complete stories can be found on L-3 Communications' website under press releases. In our opinion, these press releases should have led to an increasing stock price for L-3 Communications instead of a drop.
September 21, 2010



L-3 Acquires 3Di Technologies, LLC, Expands Secure Satellite Communications Capability
September 16, 2010
L-3 Awarded Contract to Add GPS Capabilities to U.S. Army's IPADS Equipment
September 14, 2010
L-3 Awarded DINFOS Services Contract by Department of Defense
August 30, 2010
L-3 Nova Engineering Awarded $52.8 Million Contract with the DoD for Tactical Remote Sensor Systems
August 26, 2010
L-3 GCS Awarded $170 Million Contract from U.S. Special Operations Command
August 9, 2010
L-3 Acquires Airborne Technologies, Incorporated, Expands Unmanned Aircraft Systems Capability
July 19, 2010
L-3 WESCAM Awarded $200 Million Contract from U.S. Air Force
July 19, 2010
L-3 Receives Order for Eight Additional C-27J JCA
July 14, 2010
L-3 Announces a New $1 Billion Share Repurchase Program"
Important fundamentals at a glance
Figure 1 below looks at L-3 Communications through the lens of our EDMP, Inc. F.A.S.T. Graphs™ since the company went public in May of 1998. L-3 Communications became a separate entity as a result of being sold off after the merger between Loral Corporation and Lockheed Martin (
LMT
). Clearly, L-3 Communications has consistently grown earnings at a very high rate (orange line with white triangles). Note that the company instituted a dividend in calendar year 2004 (light blue shaded area).
Figure 1 L-3 14yr. EPS Growth Correlated to Price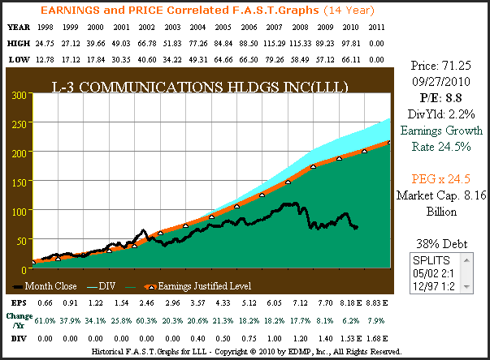 Figure 2 below looks at L-3 Communications since calendar year 2004, the year they instituted their first dividend. This illustrates that L-3 Communications has evolved from a fast-growing growth stock into a dividend paying, slower growing investment grade blue-chip. However, based on the low price the market is capitalizing their earnings at, you would think the business was failing. We believe the stock market is miss-appraising this quality company's true fundamental value.
Figure 2 L-3 8yr.
EPS Growth Correlated to Price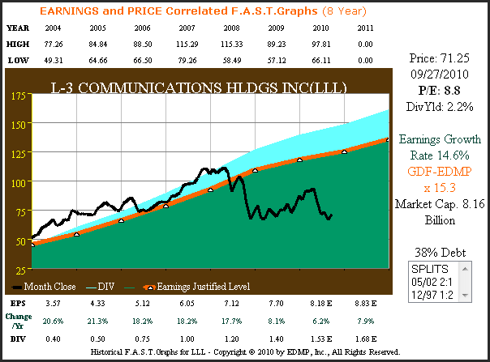 In order to provide a striking contrast, Figure 3 below features Nike Corporation (
NKE
) a well-known large-cap blue-chip with similar fundamentals (earnings and dividends), however, with an entirely different valuation applied to its stock price. Even though the shoe industry is entirely different than the aerospace and defense industry, the operating results for Nike look very similar to the operating results of L-3 Communications.
Figure 3 NKE 8yr.
EPS Growth Correlated to Price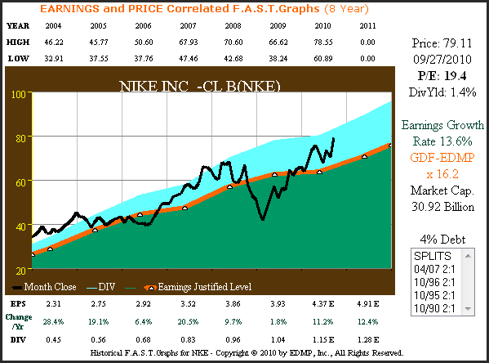 If you covered up the names and took away the black price line on both Figures 2 and 3, and compared these two graphs based solely on fundamentals, logically you would expect the company in Figure 2 (L-3 Communications) with a higher growth rate and greater dividend yield to be the most valuable of the two. Therefore, it's befuddling to us that the market is capitalizing Nike's earnings at over 19.4 times while only capitalizing L-3's earnings at 8.8 times. Furthermore, this is even more illogical, when you consider that the prospects for future earnings growth of both companies, is also very similar.
A dollar's worth of earnings from L-3 Communications should be worth no more or no less than a dollar's worth of earnings from Nike. Oh, the peculiar illogic of Wall Street never ceases to amaze us. The following
Warren Buffett
quote illuminates our confusion:
Maybe grapes from a little eight acre vineyard in France are really the best in the world, but I always had a suspicion that about 99% of it is in the telling and about 1% of it is in the drinking.
Figure 4 calculates the performance associated with Figure 1 above. As you can see, even though the market is capitalizing L-3's current earnings at a historically low level, their long-term operating performance has nevertheless rewarded their shareholders in excess of the S&P 500.
Figure 4 L-3 14yr. Performance History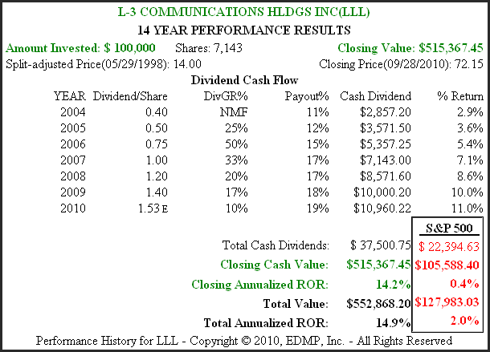 Thesis for Growth
The following excerpts of key slides that L-3 Communications presented at the Morgan Keegan & Co., Inc. 2010 Security, Safety and Defense Conference on August 11, 2010 summarize their opportunity: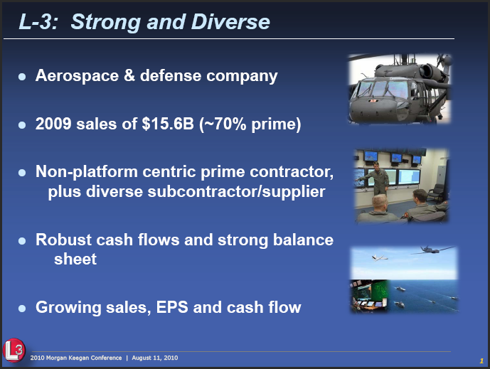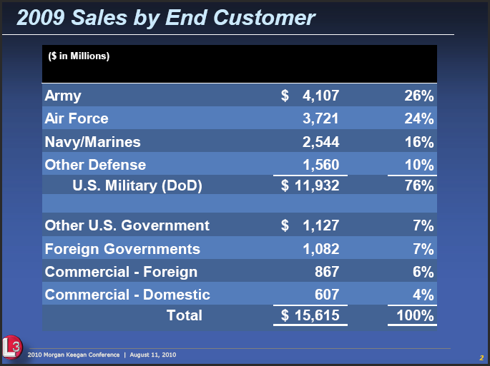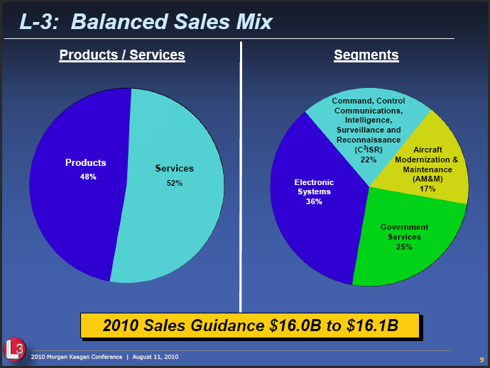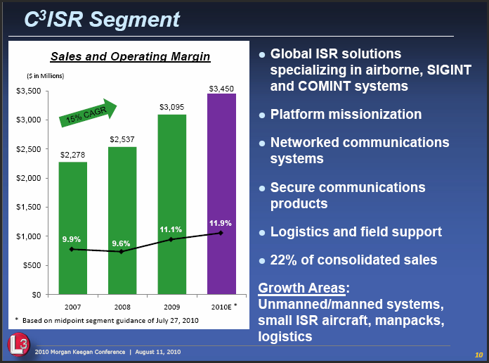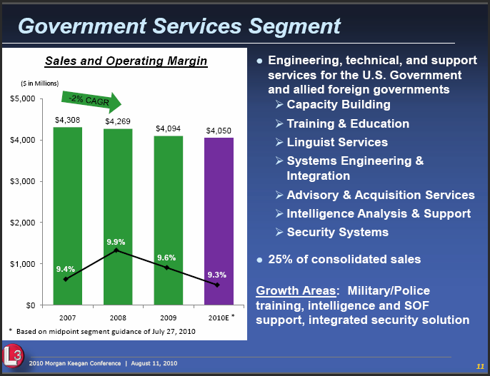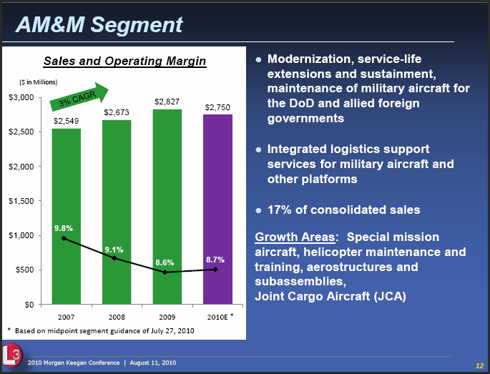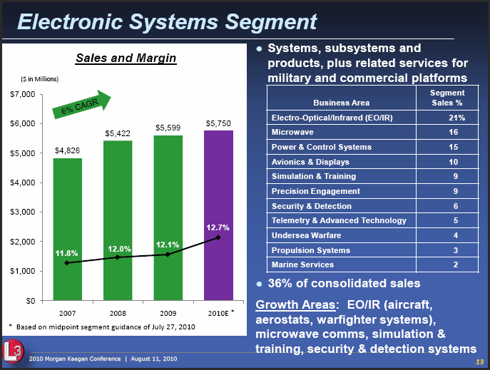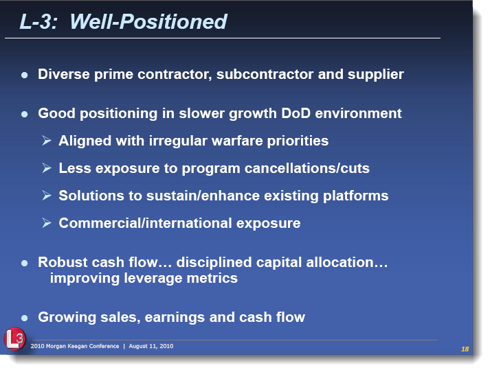 Summary
L-3 Communications appears to be a very well-positioned defense contractor due to its highly diversified non-platform focus, strong backlog and shareholder-friendly management team. The company has a very strong balance sheet, improving margins and free cash flow generation per share that is greater than earnings per share. Therefore, we feel their earnings are of the highest quality.
After the passing of highly regarded CEO Frank Lanza, the reins were handed over to CFO Michael Strianese. At first it appeared that L-3 Communications' legacy of growth through acquisition was abandoned under the new CEO. However, more recently that appears to have changed as L-3 Communications has already announced three accretive acquisitions thus far in 2010. Because of the experience of Michael Strianese as L-3's CFO, we feel that fears of integration risk are overblown.
Final Thoughts
In Part II we will present EDMP, Inc. F.A.S.T. Graphs™ on nine additional companies in the aerospace and defense industry. We will look at Northrop Grumman Corp. (
NOC
), Lockheed Martin Corp., General Dynamics Corp. (
GD
), General Electric Company (
GE
), Raytheon Co. (
RTN
), United Technologies Corp. (
UTX
), Boeing Co. (
BA
), Honeywell international Inc. (
HON
) and Rockwell Collins Inc. (
COL
). We are hopeful you will find the exercise enlightening.
Disclosure:
Long LLL, NKE, UTX.
The opinions in this document are for informational and educational purposes only and should not be construed as a recommendation to buy or sell the stocks mentioned or to solicit transactions or clients. Past performance of the companies discussed may not continue and the companies may not achieve the earnings growth as predicted. The information in this document is believed to be accurate, but under no circumstances should a person act upon the information contained within. We do not recommend that anyone act upon any investment information without first consulting an investment advisor as to the suitability of such investments for his specific situation.
Also check out: (Free Trial)